Ti Parks
exhibition
prints 1989 – 2008
etchings / drypoints / aquatints / mezzotints
20 September – 18 October 2008
For the past ten years Ti Parks has used three different printmaking workshops near his home in South London to produce etchings, drypoints, aquatints and mezzotints in very small editions.
It is very important for Parks to complete the whole process of printmaking himself; from the selection, cutting and preparing of the metal plate to the inking, wiping, pulling and final flattening of the finished print.
It has been a deliberate choice by the artist to work in this way having studied and admired the hand-made prints of many 20th century artists often produced in their early years before they were in a position to use the commercial facilities of professional printer publishers.
The small 1989 etching 'Mo Head' is the earliest of the prints. Other prints range from a 2007 Cornish landscape 'The Pendeen Watch' and the direct drypoints of the Dorset garden series from 1997 ('Lavender Wednesday' and others) to the cosmic series of ten years later based on found stencil circles ('Eclipse' and 'Sunburst') and the exploited and chance marks of the Samuel Beckett series of drypoints and mezzotints such as 'Molloy' and 'Malone Dies'.
1. Mo Head (1989)
etching
plate 9.4 x 7.5 cm, sheet 26. x 20 cm
edition of 12 (no APs) on Hahnemühle
$500
2. 'Sentinal' (c. 1997)
drypoint
plate 12 x 15.5 cm, sheet c. 19.8 x 26.5 cm, sheet 26.5 x 19.8 cm
edition of 15 (no APs) on Hahnemühle
$400
3. Riace (1997)
drypoint
plate 12.7 x 14.3 cm, c. 20 x 26.3 cm,
sheet 26.3x 20 cm
edition of 10 (no APs) on Hahnemühle
$500.
4. Man Friday (c. 1997)
drypoint
plate 14.8 x 14.8 cm, sheet c. 28.8 x 19.3 cm,
sheet 28.8 x 17.3 cm
edition of 18 (no APs) on Somerset
$400.00
5. Saturday (Mirage) (c. 1997)
drypoint
plate 14.8 x 14.8 cm, sheet c. 26.5 x 26.2 cm
edition of 10 (no APs) on Hahnemühle
$500
6. SATURDAY, Saturday (c. 1997)
drypoint
plate 13 x 19.5 cm, sheet c. 19.3 x 28.8 cm
edition of 10 (no APs) on Somerset
$500
7. SUNDAY 2 (c. 1997)
drypoint
plate 19.2 x 19.8 cm, sheet c. 39.5 x 26.8 cm
edition of 3 (no APs) on Hahnemühle
$600
8. 'Tree Seat' (1999)
drypoint
plate 14.9 x 14.9 cm, sheet various
edition of 3 (no APs) (1/3 on Hahnemühle, 2/3 on Somerset)
$600
9. LAVENDER WEDNESDAY (c. 1999)
drypoint
plate 12 x 19.3 cm, sheet c. 19 x 28.5 cm
edition of 17 (no APs) on Somerset
$400
10. Wednesday (c. 1999)
drypoint
plate 17.5 x 27.6 cm, sheet c. 27 x 39.3 cm
edition of 4 +II APs, edition on Hahnemühle, AP I on Somerset
$600
11. SATURDAY 2 (1999)
drypoint
plate 16 x 18.2 cm, sheet 19 x 28.5 cm
edition of 4 (no APs) on Somerset
$600
12. 'M' (1999)
drypoint
plate 15 x 12.6 cm, sheet 39.2 x 26.4 cm
edition of 10 + 3 APs on Hahnemühle
$500
13. 'Bender' (1) (c. 2000)
etching
plate 10 x 18.6 cm, sheet 19 x 28.5 cm
edition of 10 (no APs) on Somerset white
$500
14. 'Bender' (2) (c. 2000)
etching and aquatint
plate 10 x 18.6 cm, sheet 19 x 28.5 cm
edition of 10 (no APs)
15. Ohio (2008) (second state)
drypoint
plate 12.8 x 12.8 cm, sheet c. 39.3 x 28.5 cm
edition of 5 (no APs) on Hahnemühle
$600
16. Cosmos (2006)
etching
plate 19.7 x 19.6 cm, sheet c. 39.5 x 26.5 cm
edition of 7, 1 AP (upside down), trial proofs IV on Hahnemühle
$600
17. The Pendeen Watch (2007)
drypoint
plate 22.2 x 22.2 cm, sheet c. 39.3 x 26.8 cm
18. Play (2007) (refer # 19 Screen Play)
etching
plate 19.5 x 19.5 cm, sheet c. 39.3 x 26.8 cm
edition of 3 (no APs) on Hahnemühle
$600
19. Screen Play (2007) (second state of #18 Play)
etching and aquatint
plate 19.5 x 19.5 cm, sheet c. 39.3 x 26.8 cm
edition of 2 + 1 trial proof on Hahnemühle
$600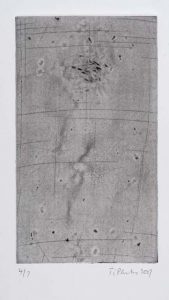 20. Molloy (2007)
drypoint
plate 22.5 x 15.2 cm, sheet c. 39.4 x 26.8 cm
edition of 7 on Hahnemühle + IV APs on various papers
$600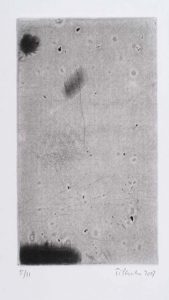 21. Malone Dies (2007)
drypoint and mezzotint
plate 22.5 x 15 cm, sheet 39.2 x 26.6 cm
edition of 11 (no APs) on Hahnemühle
$500
22. Malone Alone (2007)
drypoint and mezzotint
plate 15.2 x 22.5 cm, sheet c. 26.7 x 39 cm
edition of 8 on Hahnemühle + II APs on various papers
$500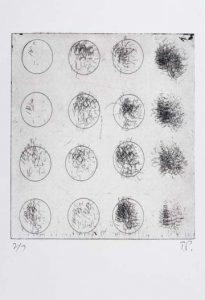 23. Light Phases (2007)
etching
plate 19 x 19.8 cm, sheet 38.3 x 27.2 cm
edition of 7 + II APs on Hahnemühle
$600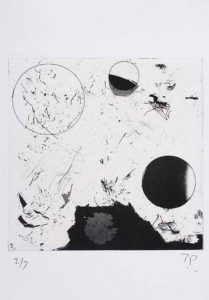 24. Eclipse (2007)
etching and aquatint
plate 17.6 x 17.6 cm, sheet c. 39.4 x 26.3 cm
edition of 7 + II APs on Hahnemühle + IX trial proofs on various papers
$600
25. 'Sunburst' (First State) (2007)
etching
plate 19.5 x 98 cm, sheet various sizes
edition of IV (no APs), # I – III on Hahnemühle, # IV on Somerset
$600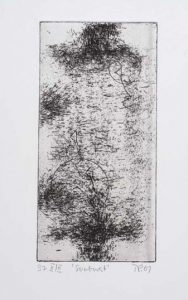 26. 'Sunburst' (Second State) (2007)
etching
plate 19.5 x 98 cm, sheet 27 x 19.7 cm
edition of II (no APs) on Hahnemühle
$600
27. 'Sunburst' (Sixth State) (2008)
etching and mezzotint
plate 19.5 x 98 cm, sheet 39.5 x 28.7 cm, # IV 39 x 26.4 cm
edition of IV (no APs) on Hahnemühle
$600
28. Molloy Dies I (2008)
drypoint
plate 22.3 x 15.3 cm, sheet c. 37.7 x 27.2 cm
edition of 7 (no APs) on Hahnemühle
$600
29. Molloy Dies II (2008)
drypoint
plate 22.5 x 15.3 cm, sheet c. 39 x 28.6 cm
edition of 7 + II APs on Hahnemühle
$600
30. Malone and Molloy I (2008)
drypoint and mezzotint
plate 15.2 x 22.3 cm, sheet c. 26.8 x 39.2 cm
edition of 8 on Hahnemühle + III APs on various papers
$500
31. Malone and Molloy II (2008)
drypoint and mezzotint
plate 15.3 x 22.6 cm, sheet c. 27 x 38.3 cm,
edition of 16 on Hahnemühle (#1 on Somerset)
+ VI APs on various papers
$400
32. Malone and Molloy III (2008)
drypoint and mezzotint
plate 15.2 x 22.6 cm, sheet c. 26.5 x 39 cm
edition of 8 (no APs) on Hahnemühle
$500
33. Watt I (2008)
mezzotint
plate 17 x 12.6 cm, sheet c. 26.8 x 2 cm
edition of 4 (no APs) on Hahnemühle
$600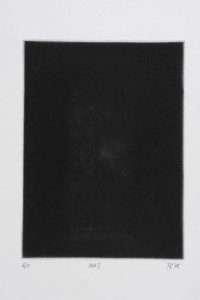 34. Not I (2008)
mezzotint
plate 17.2 x 12.7 cm, sheet c. 26.8 x 19l7 cm
edition of 7 (no APs) on Hahnemühle, # 3 on white
$600
35. 'Sunburst' (Third State) (2008)
etching and mezzotint
plate 19.5 x 98 cm, sheet c. 26.8 x 19.7 cm
edition of II (no APs) on Hahnemühle
$600
36. 'Sunburst' (Fourth State) (2008)
etching and mezzotint
plate 19.5 x 98 cm, sheet I and II 27 x 19 cm, III and IV c. 38 x 26.8 cm
edition of IV (no APs) on Hahnemühle
$600
37. 'Sunburst' (Fifth State) (2008)
etching and mezzotint
plate 19.5 x 98 cm, sheet c. 37.8 x 27 cm
edition of IV (no APs) on Hahnemühle
$600
38. Lozenges I (2008)
etching
plate 12.5 x 22.4 cm, sheet various sizes c. 27 x 38 cm
edition of 6 (no APs) on Somerset and Hahnemühle
$600
39. Lozenges II (2008)
etching and mezzotint
plate 12.4 x 2.4 cm, sheet c. 26.6 x 39 cm
edition of 8 (no APs) on Hahnemühle
$500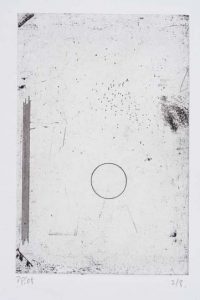 40. Seven Lines (2008)
etching
plate 24.4 x 16.1 cm, sheet c. 39.2 x 26.8 cm
edition of 8 on Hahnemühle + 2 APs on white
$500
41. F-Bite Pair (2008)
etching
2 plates – plate sizes 10.5 x 11 cm and 78 x 10.7 cm
sheet c. 39.3 x 28.5 cm and 39.3 x 26.7 cm
edition of 10 + 1 AP on Hahnemühle
the configuration of plates varies in each etching of the edition and were
arrived at by chance
$500