Noreen Grahame
artist's book
Lessons in Dictation (2007)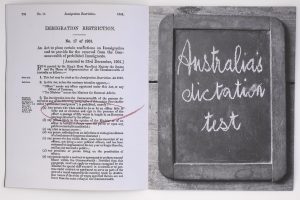 The absurdity of the dictation test as proscribed in Section 3(a) of the Australian Immigration Restriction Act of 1901 is evident in the farce surrounding the 1934 Eugon Kisch incident. Kisch, a Czech national and a communist, was invited to speak at a meeting organized by The Movement Against War and Fascism. Wanting to prevent Kisch from entering the country, the Australian government of the day, ordered he undergo a dictation test in Scottish Gaelic, a language selected with the intention the multi-lingual Kisch would fail. He did. A deportation order was issued but the Supreme Court of Australia overturned this decision.
Discussions in 2007 about reviving the dictation test to prove eligibility for Australian citizenship indicates Australia had not heeded this 'lesson of history'.
12pp. 24.7 x 19.5 cm. Published in edition of 100 on the occasion of the exhibition Lessons in History held at grahame galleries + editions March/April 2007. Signed and numbered.
Publisher: number uno publications / grahame galleries + editions
Price $22.00
Ref:
McQueen, H 2011, 'The end of everything else', in M Oppen and P Lyssiotis (eds), The Silent Scream: Political and Social Comment in Books by Artists, Ant Press for Bibliotheca Librorum apud Artificem. pp. 116-7 (illustrated).
Grahame, N (ed.) 2015, Une histoire du livre d'artiste Australien, numero uno publications. p. 19. (illustrated p. 18).
Award:
2007 Southern Cross University Artist Book Award
Exhibitions:
2017 &So… Artists' Books from the Centre for Artists' Books,Queensland College of Art Library, Griffith University
2015/16 Une historie du livre d'artiste australien, Cabinet du livre d'artiste, Université Rennes 2, France
2016 Choose your own Adventure, Hawkesbury Regional Gallery
2011 The Silent Scream: political and Social Comment in Books by Artists, Monash University Library, Melbourne
2009 Inkubator II, The DLI Museum & Durham Art Gallery, Durham, UK
2010 Glass Case Space, grahame galleries + editions
2008 16th Taipei International Book Exhibition (TIBE), Artists Books from the Centre for the Artist Book
2007 Lessons in History Vol. I, grahame galleries + editions
Collections:
Bibliotheca Librorum Apud Artificum
Australian Library of Art, SLQ
NLA
Artspace, Mackay
Southern Cross University
Monash University
Baillieu Library, University of Melbourne
Tate Library, London
State Library of Victoria
Fryer Library, University of Queensland
Manly Library, Manly, NSW
Carlton College, USA
Centre for the Artist Book
British Library, London