Judy Watson
the holes in the land – wallet of six postcards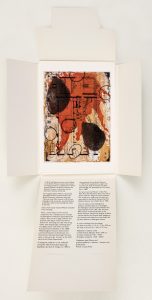 Wallet made to accompany launch of Judy Watson's 2015 suite of six colour etchings 'the holes in the land'. The wallet contains six postcards – one for each of the six etchings.
Printed on inside flap:
In 2013 Watson was an artistic fellow at the British Museum where she worked on Engaging Objects, a collaborative research project between the British Museum, the National Museum of Australia and the Australia National University.
For Engaging Objects Watson researched Aboriginal cultural material held in the British Museum's collections since the 19th and early 20th century.
During her research Watson made drawings of Aboriginal cultural material in the collections. She selected some of these drawings for the six etchings and superimposed them on architectural plans of the British Museum from the 18th, 19th and early 20th century.
Etchings are reproduced on face of postcards – one etching per card.
Verso on each postcard is printed the description and origin of Aboriginal cultural material as well as details of the architectural plan pertaining to that postcard.
15 x 10 cm. 100 wallets printed offset.
$22.00