Jan Davis
exhibition
from the ground up
30 September – 28 October 2017
drawings / etchings / artist's books
from the ground up acknowledges the land as the source of sustenance and proposes the garden, the house and the studio as an integrated site. An avid gardener the artist recognizes similarities in the discipline required in the studio and in the garden – the planning, the labour, the pleasure, and the documentation. The act of growing one's food brings her the same sense of 'making' that she finds in the studio. Her aesthetic pursuits in the studio also have their reflection in the architecture of house and land and a relationship to the manner in which her house sits in her garden. This is a relationship reproduced in houses and gardens across the rural landscape.
In these drawings, layers of wash after wash applied on lightweight paper, mimic seasonal labour while the paper folds define built forms, and the woodblocks locate garden beds. The drawings sit lightly on the wall but convey the same mass that Davis sees in the high-set Lismore houses. Strangely after the recent flooding in Lismore, one also senses waterlines in some of the works.
While these works have their nascence in previous projects, the forms and the fabrication are simpler here. The manner of fabrication of these current works is an extension of projects for two earlier exhibitions, Walking Home (2010) and Trace (2011) where folding and stitching lead to the production of digital prints. The subject of labour extends Davis' 2015 Siganto Foundation Artists' Books Creative Fellowship at the State Library of Queensland where she pursued records of labour as a starting point for her artist books Drawing on the ground.
In seeking to historically contextualise agricultural labour Davis read certain English and Italian garden histories and discovered Virgil's The Georgics, an epic poem on the virtues and challenges of agricultural life. She recognized the same honouring of human labour and agricultural knowledge that she had been attempting to articulate. Her drawings and the artist book in this exhibition take their titles from Virgil's poem.
Prices:
Woodblocks with drawings: $2,200.00
Etchings: $1,250.00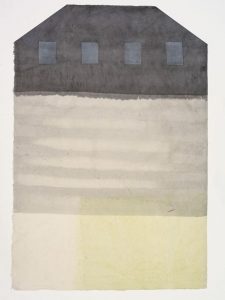 1. Georgica #4 (2017)
ink, woodblock, gouache on Nepalese paper c. 78 x 54cm
3. Georgica #6 (2017)
ink, woodblock, gouache, stitching on Nepalese paper c. 78 x 54cm
6. Georgica #11 (2016)
ink, woodblock, stitching on Nepalese paper c. 78 x 50cm
2. Georgica #5 (2017)
ink, stitching on Nepalese paper c. 54 x 78cm
5. Georgica #9 (2017)
ink, woodblock, stitching on Nepalese paper c. 54 x 77cm (framed)
12. Georgica #25 (2017)
ink, woodblock, stitching on Nepalese paper c. 53 x 78cm (framed)
Awarded the Swan Hill 2018 National Print and Drawing Award for Drawing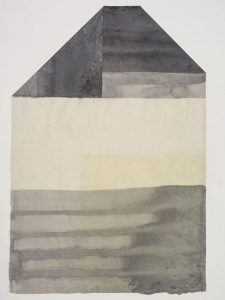 4. Georgica #7 (2017)
ink, woodblock, stitching on Nepalese paper c. 78 x 53.5 cm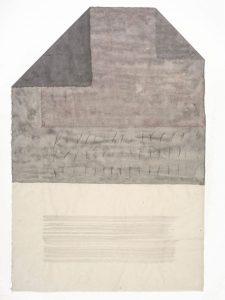 7. Georgica #12 (2016)
ink, woodblock, stitching on Nepalese paper c. 78 x 54cm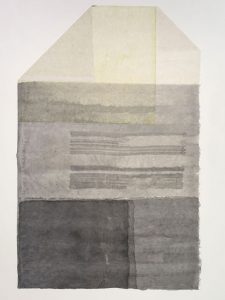 8. Georgica #13 (2016)
ink, woodblock, stitching on Nepalese paper c. 78 x 50cm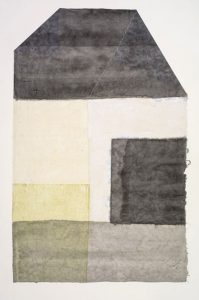 9. Georgica #17 (2017)
ink, woodblock, gouache, stitching on Nepalese paper c. 75 x 50cm
10. Georgica #19 (2017)
ink, woodblock, stitching on Nepalese paper c. 75 x 50cm
11. Georgica #23 (2017)
ink, woodblock, stitching on Nepalese paper c. 78 x 54cm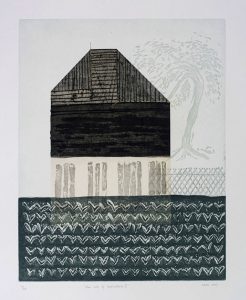 13. Georgica #26 (2016)
ink, woodblock, stitching on Nepalese paper c. 78x 54cm
14. the art of horticulture I (2017)
2 plate etching with chine collé, edition of 30
15. the art of horticulture II (2017)
2 plate etching with chine collé, edition of 28

16. Virgil's Keep (2017)
The eight paired relief prints and the dual binding generate a sense of enclosed space, 'the keep' of the title. 15.5 x 39.3cm. Bound by master bookbinder Fred Pohlmann.
Published by the artist and numero uno publications, grahame galleries + editions.
Edition of 6 signed and dated.
$660.00