Richard Tipping
exhibition
Sign Here (2016)
prints and multiples

17 November – 17 December 2016
Coming from the poetry world originally, I like publication – not just of books, but of stickers, postcards, badges, screenprints, and especially objects. Multiples are mechanically produced small sculptures, often in an unlimited edition. Influences on my work include the Fluxus movement of the 1960s, and concrete poetry.
Some of my work is variations upon existing sign templates, such as changing Wrong Way Go Back to Wrong Day Go Back. This design has been selling as a pressed-aluminium sign of postcard size since 2004, including through MoMA in New York. The result is that Wrong Day is now a 'meme' and has been ripped off and reproduced endlessly without any acknowledgement. The same applies to many of my invented signs, including Notice: Thank You. This sign design was first produced for the precinct of the Powerhouse Centre for the Live Arts, along with ten other signs in 2001. Some of these have been damaged, and some stolen.
Richard Tipping has produced four volumes of The Sydney Morning starting with Volume 1 in 1989.
Volume I is only available as a set with Volumes II, III and IV @ $4,800.00
Volumes II, III and IV are available @ $1,300.00 ea
Volume I, 1967-1988 (Word Works & Ideagraphics)
From artist's notes: By word works I mean visual/verbal or image/language/sign interactions which play between levels of message, medium and meaning; between text and context; between title and content; combining or manipulating or deleting elements to create a floating springboard to regions more lateral. These screenprints are not 'copies' of visual poems or word sculptures existing somewhere else: they are, each, originals.
12 Screenprints – 60 of edition reserved for Volume I – Volume 1 in this exhibition has various edition numbers.
Public collections include: British Museum, London; MoMA, New York and National Gallery of Australia, Canberra.
Now rare – the prints exhibited are last few individual prints from series still available
Start Freeway, 1981 – 1992
screenprint
edition 80 $220.00
Letters (Australia Poet), 1989
screenprint – edition 60 – $330.00
Australian Mad, 1992
screenprint
edition 80 $220.00
Danger Postmodernism, 1992
screenprint
edition 80 $220.00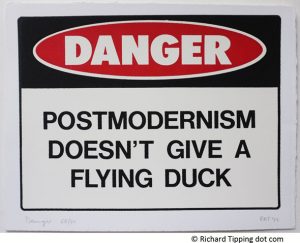 Caution Avant-Garde, 1994
screenprint
edition 80 $220.00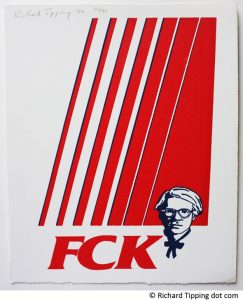 FCK, 1994
screenprint – edition 90 $220.00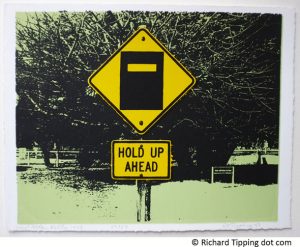 Ned Nolan Kelly (Hold Up Ahead) 1983 – 1992
screenprint
edition 88 $220.00
Meat Mart, 1983 – 1992 – 1992
screenprint – edition 80 $220.00
Poetry … Silences, 1994
screenprint
edition 82 $220.00
QUIET (yellow on black), 1994
screenprint
edition 80 $220.00
(Sing Hum) Crossing the Hump (Evening), 1981 – 1992
screenprint – edition 80 $220.00
(Sizzling) Hot Chips, 1989
screenprint
edition 60 $220.00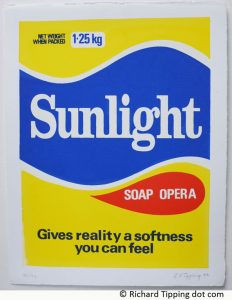 Sunlight Soap Opera, 1992
screenprint – edition 72 $440.00
New World Power, 1994
screenprint – edition 80 $220.00
more rare prints available – images unavailable
Sreenprints
The Race, 1967 – 1989 – edition 60 $330.00
Austerica, 1989 – edition 60 $220.00
1917, 1989 – edition a/p $330.00
The Blood of the Poet (Poet Tree), 1979 – 1992 – edition 87 $220.00
Form 1 Planet, 1992 – edition 78 $220.00
She Swore like an Angel, 1992 – edition 80 $220.00
Holy Shit, 1992 – edition 60 $220.00
Cunding Futs, 1992 – edition 80 $220.00
Gallery (Art Allergy), 1994 – edition 82 $220.00
Fighting Words #1, 1994 – edition 82 $220.00
Fighting Words #2, 1994 – edition 80 $220.00
Hoho (ohoh) #1, 1994 – edition 82 $220.00
Hoho (ohoh) #2, 1994 – edition 82 $220.00
Hear the Art (single circle), 1994 – edition 80 $220.00
Hear the Art (double circle), 1994 – edition 80 $220.00
Poem as Lover, 1994 – edition 82 $220.00
The Obsession of Angels, 1994 – edition 86 $220.00
Letterpress – $220.00 each
Sun Shower, 1967 – 1991 – edition 60
Gospel, 1967 – 1991 – edition 60
Tears, 1968 – 1991 – edition 60
Blossom, 1968 – 1991 – edition 60
You, 1979 – 1991 – edition 60
Warship Worship, 1991 – edition 60
Evening, 1977 (Moonday), 1991 – edition 60
Swing Wing, 1991 – edition 60
Is it If, 1991 – edition 60
Addendum (openotherend), 1991 – edition 60
Quiet (wooden letters), 1991 – edition 60
Sign Here
Metal sheet screenprint and Laminate sign
45 x 30 cm
Signature, date engraved verso $1,250.00
Reflective tape signs on aluminium
Airpoet, 1979
29 x 35 cm, edition 21.
Signature, date and edition # engraved verso.
$550.00
Form 1, 1992
40 x 30 cm, edition 20.
Signature, date and edition # engraved verso. $550.00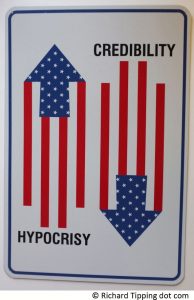 Hypocrisy Credibility, 2002
45 x 30 cm, edition 2.
Signature, date and edition # engraved verso. $550.00
Give Way ?, 1998
36 x 40 cm, edition 18.
Signature, date and edition # engraved verso.
$550.00
Ozone, 1998
30 x 30 cm, edition 15.
Signature, date and edition # engraved verso.
$550.00
One Day, 1998
15 x 45 cm, edition 21.
Signature, date and edition # engraved verso.
$550.00
Exit Strategy, 2003
40 x 40 cm, edition 21.
Signature, date and edition # engraved verso. $770.00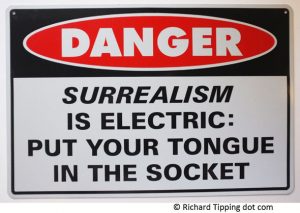 Danger Surrealism, 1993
30 x 45 cm, edition 10.
Signature, date and edition # engraved verso.
$550.00
Sexit, 2012
22.5 x 40 cm, edition 12.
Signature, date and edition # engraved verso.
$550.00
Human on Leash, 2001 – edition 2012
30 x 40 cm, edition 4.
Signature, date and edition # engraved verso.
$825.00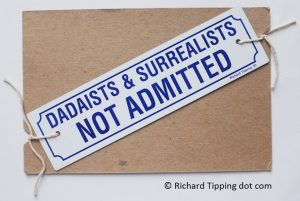 Not Admitted, 1993
Hand made in Newcastle in edition of 300
3×100 in slightly different blues.
Last four available – two with original cardboard and two without.
$440.00
Metal sheet with screenprint and laminate signs
Guard Cat, 2010-11
Published in Australia. Made in Minnesota.
Edition of 50, 254 x 177 cm.
last 5 available $132
Big Mother, 2010
Published in Australia. Made in Minnesota.
Edition of 50, 254 x 177 cm.
last 15 available $110.00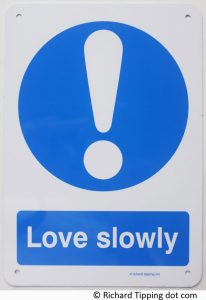 Love Slowly, 2010
Published in Australia. Made in Minnesota.
Edition of 50, 254 x 177 cm.
last 15 available $110.00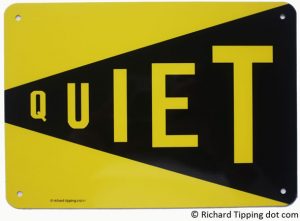 Quiet, 2010-11
Published in Australia. Made in Minnesota.
Edition of 50, 177 x 254 cm
last 15 available $110.00
3 Hour Barking, 2009
Published in Australia.
Made in New York State, USA. Unlimited edition multiple.
Out of Print $99.00
Private Poetry, 2014
Published in Australia.
Made in NY, USA
Unlimited edition multiple. $33.00
No understanding, 2014
Published in Australia.
Made in NY, USA
Unlimited edition multiple. $33.00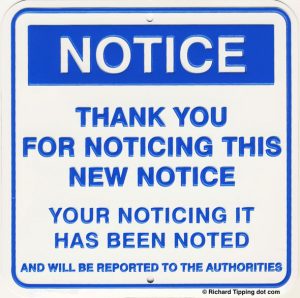 Notice, 2014
Published in Australia.
Made in NY, USA
Unlimited edition multiple. $33.00