Stephen Banham and contributors
artists' books
Qwerty (1991 – 1996)
The Qwerty series of idosyncratic booklets looks at various aspects of Australian typography. 'Qwerty' takes its title from the first six letters of the English keyboard. The six books in the project commenced in 1991 with Q: For Those who get their fingers dirty and finished the 1996 booklet Y: At home with the alphabet. Some issues were printed offset, some letterpress, some used stencils and some contain found ephemera and rubber stamps. Editions – Q,W,E editions of 200; R, T, Y editions of 250.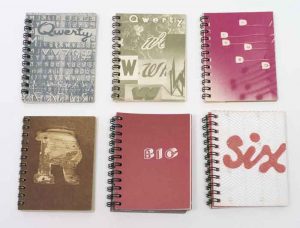 Q: For Those who get their fingers dirty
A reaction against the artless early desktop publishing period, Qwerty 1 was designed during the late shift at a newspaper design office. This first issue of Qwerty is based on hand-generated type with interviews with Noel Pennington at the St.Kilda-based studio Design Bite and the freelance designer Peter Long. Although never intended to be so, this issue is now considered quite a historical document of an earlier period of Melbourne graphic design. The tiny format of Qwerty (74 x 105mms) was a product of sheer economy and was the only way to get 24 pages out of a small two colour sheet. No. 184.
Letterbox
W: Australian Vernacular
Contributors:
Exploring the sheer diversity of the Australian vernacular, this issue asks noted Australian graphic designer and collector of ephemera, Mimmo Cozzolino, whether there is a distinctive Australian vernacular style. The answer was ultimately inconclusive – but it was a worthwhile journey to discover that seeking an 'Australian style' is a self-defeating argument. After all, the beauty of Australian culture is its diversity and reluctance to be classified. No. 133.
Letterbox
E: A Shadow of its former self
An intentionally anticipating the boom in urban stencilling by a decade or so, the third issue of Qwerty was centred around stamps and stencil typography. All of the text and imagery in the issue hand stencilled, which in a publication of A7 dimensions, is quite a feat. This issue is testimony to the beauty of these portable and unique mediums of expression. Features early career contributions from Fabio Ongarato amongst others. No. 151.
Letterbox
R: Recession
Produced after the recession of the early 1990s, this issue of Qwerty was an observation of the typographic fall-out from such economic hardship. This included a survey of business signage being wrenched off buildings and other skeletal remains of spent commerce. The text is set in a customised typeface (Bankrupt) based on the glue outlines that are left after a sign is removed. This issue features a tipped-in four-colour letterpress section printed in Sydney. No. 163.
Letterbox
T: Big is Beautiful 
A collection of the biggest letters in Australia from A through to Z, each letter is measured in metres, feet and even points. In case you're wondering the biggest was an uppercase Y estimated at being half a kilometre in dimensions (it was written in the sky). This issue also introduced the now notorious 2 mile Readymix logotype in the Australian desert which has been researched in subsequent writings such as Fancy. No. 161.
Letterbox
Y: At home with the Alphabet
Based on domestic forms of typography, this issue features typefaces made from icing sugar and a study of type featured on Australian letterboxes. Being the sixth Qwerty, this issue was the last of the set and drew to a close the series a very specific time and place in Australian typography. Having sold out the edition of 250 copies in 1996, they are now collected all over the world. No 016.
Letterbox
All works are © Qwerty
Ref:
Grahame, Noreen (ed.) 1996, artists' books + multiples fair '96, numero uno publications, Brisbane. p. 43.
Review in EYE vol 15 no 4, 1994, Qwerty, p. 94.
Collection: Centre for the Artist Book, grahame galleries + editions