Judy Watson
selected works
big world with three stupas (2005)
'big blue world with three stupas' a work on canvas was a result of a trip to Sri Lanka and overlaid with my travels in India on a previous occasion. I had visited some very old stupas (temples), in Sanchi, Madhya Pradesh. Back in Australia I went on to make a series of etchings with Master Printer Basil Hall, Basil Hall Editions, at Qld College of Art printmaking department in Brisbane. Three of these etchings were versions of my work on canvas. They talk about the ideas of travel, culture, beliefs and iconic motifs that are suggestive of breast forms, bell shapes and stupas. The outlines of two figures are indicative of a listening space between people when language, ideas and emotion are exchanged. The prints vary from big blue world, big brown world and big dark world, and suggest various states of being among different countries, cultures political and social backgrounds underlying these worlds.
Printed in editions of 30 on Hanhemühle paper 70.0 x 54.0 cm. BHE blindstamp.
Prices: $495.00 unframed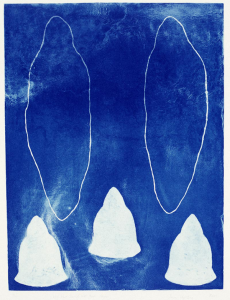 big blue world with three stupas (2005)
Two colour etching from two zinc plates
Colours pale blue and ultramarine blue
Printer Basil Hall Editions with BHE blindstamp
big brown world with three stupas (2005)
Two colour etching from two zinc plates
Colours ultramarine blue and red ochre
Printer Basil Hall Editions with BHE blindstamp
big dark world with three stupas (2005)
Two colour etching from two zinc plates
Colours red ochre and ultramarine blue
Printer Basil Hall Editions with BHE blindstamp