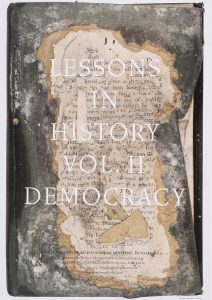 poster front
and back of catalogue cover
artist's books exhibition
Lessons in History Vol. II – Democracy (2012)
27 October – 15 December 2012
poor . tired . fragile . democracy
poster verso
and catalogue cover
This introduction allows space for discussion of a few of the works in this exhibition. Many more await the visitor.
'Old democracies' are impoverishing democracy in their countries through attacks on citizens' freedoms. Ironically this chipping away at freedoms is being made in the name of democracy and even in the name of protecting and strengthening democracy. The same governments, however, are eroding and weakening the very institutions, which underpin democracy. Despite this dismantling at home, these old democracy governments have undertaken to bring a 'brand' of democracy forcibly to dictatorships.
Politics just isn't my thing, otherwise I would have long become a revolutionary! Hermann Hesse declared when asked why he showed no interest in taking up political office. Hesse knew that politics could not be ignored and throughout his life he commented on political questions. Today's big political question is democracy. But how to understand what is happening to it? Artists interpret the world and life for the rest of us. For Lessons in History Vol. II – Democracy they were asked to get under democracy's skin. They were asked to define what democracy is and what is being done to it, and were set the extra challenge of producing a work in a medium that is itself a challenge to define, the artist book.
Paula Quintela in her artist book Nineteen Seventy Three certainly gets under democracy's skin and shows how quickly it can be dismantled. There was no chipping away done in Chile's military coup d'état of September 11 1973. Democracy was totally destroyed. Quintela uses 195 glass slides from a scientific box that held 200 glass slides on which to reproduce a speech by President Allende. The five missing slides represent the 'disappeared' during Pinochet's 17-year dictatorship. The artist has coloured some slides red and some brown. Reds remind the viewer of the blood spilt and browns testify to the mass graves of the murdered. Todos Juntos (All Together) by Argentinean artist, Hilda Paz, takes the view that the light of democracy has begun to shine on South America.
'Paint with photos – write poetry with photos' said the pioneer of photomontage, John Heartfield, in 1929, and he used photomontage as a political weapon. Long a Heartfield admirer, Peter Lyssiotis has applied the photomontage technique to his work since the 1980s. THIS IS WAR makes political statements and the artist does not mince words. His arresting and potent colour images set on right hand pages are accompanied on left by original texts in muted brown/grey teinte with Lyssiotis' captions overprinted in large red type. THIS IS WAR asks the big question: What price democracy? It also looks at the quality of and the conditions attached to the democracy being exported to the unsuspecting. The format and elegant red cover binding used for 7 Disrupted Interviews with History, his book in Lessons in History Vol. I is also used here signalling the beginnings of a series of hard hitting books.
Karen Zimmermann also uses photographs, this time digital photographs in her contribution Corridor. The book gives testament to the wars of the future, the water wars. Zimmermann restates from Mark Twain that whiskey's for drinking and that water's for fighting.
In Atlas 1 Glen Skien introduces a visual language. His new language dances sparingly across the rich mono-print page-surfaces, its changing combinations creating new spontaneous forms on the landscape. Atlas 1 evokes a sense of a cartographic journey of surface that is neither associated with ownership nor possession. For Skien the survey-like numerical notations on each page act as a type of historical referencing to the often covert forms of the early European settlers' needs to re-inscribe place as a form of ownership.
Marian Crawford deals with political/military confrontation in segmentation and dark-heartedness, the title comes courtesy of Paul Keating. former prime minister of Australia. The work's timeless truth is not limited by concentrating on a single incident and a single death. Crawford includes when they came/for you… a poem by Christopher Barnett, which first appeared on Facebook. Barnett's poem commemorated the history of the Israeli raid on the Turkish ship, the Marvi Marmara, as it attempted to break the Israeli sea blockade to Gaza.
Joseph Beuys was disenchanted with elitism in art schools. He believed that everyone was creative and that art schools should be democratised and not just art schools, but also that society should be democratised. The honey-pump Beuys installed in Kassel's Fridericianum Museum for Documenta VI in 1977, in part represented the social system of bees that Beuys believed could be applied to the human social system. Both Judith Rosenberg and Kim Tarpey, although not referencing Beuys, have used bees as a metaphor for human society.
Another book, which deals with society and individual's rights, is Jan Hogan's Becoming, Gundaroo Common Book 1: ongoing negotiations. Hogan's woodblock prints are made with an adaptation of the Japanese woodblock tradition using Sumi ink and pigments to produce the largest book in the exhibition (66.0 x 94.0 cm). Hogan lives in the small village of Gundaroo in New South Wales, which has a 200-acre common. The right, which precedes democracy, to use commons for grazing and to make a living was acknowledged in the Magna Carta. Hogan, concerned that the rights of people to make a living without interference by the state has become untenable, has started to re-invigorate the concept behind the original idea of commoning. Stephen Spurrier deals with society and rights on a domestic scale. In Democratic Domestic and Undemocratic Domestic he studies the social mixes; couples, parents, children and even domestic animals, which allows us to enter the realm of democracy on the home front.
Fashion is democratised in Sharon Kivland's Encore un effort. Kivland describes the 'easy freedom of movement' of the revolutionised fashion that made its appearance on the streets of Paris during the 1968 protests.
Does truth and democracy go hand in hand? Michael Schlitz thinks so. His small solid bronze the portable truth comes with a handle to ensure it can be always at hand. Schlitz's sculptural book or book object is heavy, very heavy, perhaps indicating the strength and determination required in maintaining truth and democracy. A not so weighty sculptural piece is Helen Mueller's Makers' Mark. A linocut of a fingerprint, representing an individual vote, is printed on 344 sheets of paper. The linocut is printed on each sheet so that the fingerprint also appears along the fore-edge of the sculptural piece/book.
Small numbered watercolour marks, representing votes, in green, blue and red, float across the pages of Jan Davis' Democracy Counts. On the tally page green has 402, red 478 and blue 479 votes. Red or blue will govern with the help of green. I can't help thinking that one from this variable edition of 5 may provide red or blue with a clear majority to govern unaided by green. Another book that deals with the mechanics of voting is Juli Haas' The Amazing Box o'Ballots. Haas gives us an insight into the mad, bad world of the manipulated Tally Board, the Counterator and other voting machines. Monica Oppen even provides pencils for viewers to register their vote in Dare to Vote.
Two works deal with the spirit of democracy. Madonna Staunton's Alphabetical Alpha-Betical Notes Democracy: The Grace ful State, the smallest book in the show, is chock full of revelations from the 'Little Crumbs of Happiness' of the introduction page to the random notes section. The only multiple in Lessons in History Vol. II – Democracy is Judy Watson's Emma Miller Hatpin. During the 1912 strike by tram workers, who were fighting for the right to wear their union 'colours' on their uniforms, Emma led a contingent of women in a march to demonstrate outside Parliament House in Brisbane. A wall of police blocked the women's progress and charged them on foot and horseback. The women fought back as best they could with Emma leading the way by plunging her hatpin into the Police Commissioner's horse and unseating him. Today we all need a little of Emma's 'hatpin spirit' to help fight for democracy.
Noreen Grahame
October 2012
Sue Anderson 1948 Australia
Gwen Harrison 1947 Australia
Shore of Certain Happiness: 1788 – 2012
Sydney 2012
As Australians we celebrate our self-image as a caring and generous democratic society – the so-called 'lucky country'. This notion encourages us to feel a comfortable sense of certainty and ease as we go about our daily lives. And yet, our history since colonisation is fraught with stories of xenophobia, persecution and alienation of 'the other'.
This artwork comprises a series of prints and a variety of texts including reflections from historical and contemporary writers that explore the silencing of the marginalised: from the oppression of Indigenous Australians, to the exploitation of the English and Irish convicts, to the dehumanisation of asylum seekers. In this work the artists seek to represent the way in which minority groups have been and still are denied their right to a voice. This 'Australian way' sits uncomfortably with our popular self-image and diminishes the strength and validity of our democratic society.
Multi-plate etchings, sugar-lift & aquatint with chine collé. Letterpress. Zerkall, BFK Rives & Kozo. Bradel binding. 35.5 x 27.5 cm. 28pp. Signed and dated in pencil. Variable edition of 6.
$1800.00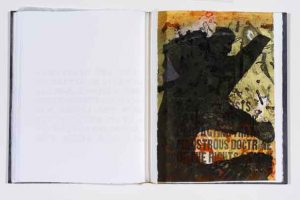 Susan Baran 1959 Australia
some famous quotes: Democracy
Sydney 2012
A little lesson in history: this book records some famous quotes by famous people on the subject of democracy. Some views displayed show insight while others are peppered with wry humour and contempt.
Quotes date back to Plato and his student Aristotle. Then move on to modern politicians like Churchill and Gorbachev with some great 'wisdom' from George W. Bush. A rather poignant and chilling quote comes from Benazir Bhutto. Turning to the arts we hear words of warning or advice from the likes of Voltaire, Oscar Wilde, Allen Ginsberg and Bob Dylan to name a few. There is even a quote by fashion designer Giorgio Armani on the democracy of jeans. Hopefully the viewer comes away a little wiser after this History Lesson.
Concertina format with quotes pasted on etched images of flowers. 11.5 x 19.5 cm. Signed in pencil. Unique.
$450.00

Judy Barrass, 1950 Australia
Democracy: what if GOD was one of us
Alternative Publishing, Sunshine Coast, Queensland 2012
www. alternativepublishing.info
As soon at the artist heard the theme she wanted to make a zine, because they are the most democratic way of publishing. Like democratic systems of government, they allow anyone and everyone to voice an opinion and have a say. They are a democratic form of publishing – anyone can produce them and everyone can afford them. Zines are accessible to all.
Initialled and dated. 21.0 x 15.0 cm. Edition of 12.
$15.00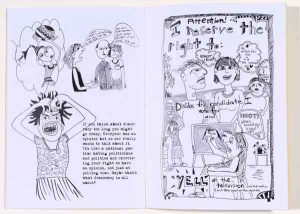 Julie Barratt 1960 Australia
Stop Having Sex
Ballina 2012
The artist has drilled holes through a magazine and stitched through them so that the magazine can no longer be read.
The 'alterations' question the role of free press in a democratic society. The artist has concealed the magazine's contents to reveal a greater truth.
"The more media headlines shout at me the less likely I am to read the story."
Rubber stamped title, signed and dated on attached tag. 29.4 x 21.5 cm. Edition of 5.
$280.00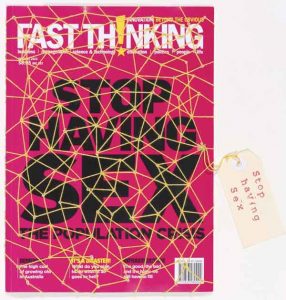 Tia Blassingame 1971 USA
Black in Dictionary
Primrose Press, Washington, D.C. 2011
Black in Dictionary exposes derogatory terms used to describe African Americans. The flags feature words and images on the front, while definitions appear on the back. Along the internal spine of the book, the derivations of the n-word accompany a brief essay.
These derogatory terms, which Blassingame sets out in a dictionary-like format, divide people, cultures and language as well as dividing the grammar of democratic thought.
Flag book, digitally and letterpress printed on handmade and commercial papers. 20.5 x 12.5 cm. Signed and numbered in pencil. Edition of 25.
$440.00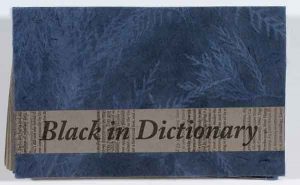 Sarah Bodman Great Britain
Dead Search
Bristol 2012
In the future, will you be able to find democracy on the Internet? Is the Internet itself as democratic as we imagine it to be? Of course the Internet is a powerful tool for dissemination, and often it allows us to access information that we might not be able to find by other means. But who answers the questions we ask and the searches we undertake online? And who decides what we do and don't get to see? Citizens of many countries have limited access to information portals enjoyed by those in 'democratic' societies, but it isn't just government that controls what we can and cannot access. The Internet is full of tools designed to influence us to purchase things we don't need and to gather information on our spending patterns and desires in a market-driven economy. So what will end up in your shopping basket when the response to searches on the Internet will only provide you with information in order to sell you something?Free download PDF, 21 x 14.85 cm. The book can be downloaded for self-assembly at: http://www.bookarts.uwe.ac.uk/dead12.htm100 copies distributed during the exhibition. Free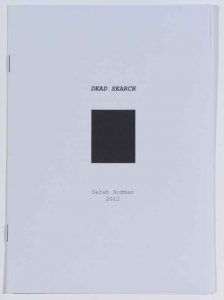 Thomas Clark and Laurie Clark
towards perpetual peace
Moschatel Press, United Kingdom 2012
More than two centuries ago the German philosopher, Immanuel Kant, in a small volume 'Towards Perpetual Peace' elaborated his views on politics, peace and history. His views have lost none of their relevancy today.
This is the assumption behind Thomas and Laurie Clark's booklet towards perpetual peace, in which Kant's theme is followed through a series of prepositions; towards perpetual peace; through perpetual peace; with perpetual peace; in perpetual peace; of perpetual peace; until perpetual peace; for perpetual peace. Each preposition (or proposition) is accompanied by a drawing of a flower offered towards the pacifying process.
In 'Secret Article relating to Perpetual Peace' Kant wrote, 'The maxims of the philosophers regarding the conditions of the possibility of a public peace, shall be taken into consideration by the States that are armed for war.'
We normally understand that peace is that period of time after cessation of hostilities/war. We have still to embrace the concept of lasting peace.
Inkjet printed with hand-coloured illustrations. 15.0 x 10.8 cm. Unsigned. Small limited edition.
$22.00
Marian Crawford 1955 Australia
segmentation and dark-heartedness
Melbourne 2012
In 2010 Furkan Doğan, a Turkish permanent resident, was on board the ship Mavi Marmara that attempted to break the Israeli blockade of Gaza. Israeli naval commandoes killed Doğan in a raid on the flotilla on 31 May 2010.
Australian-born French-based writer, Christopher Barnett, in a poem recorded on Facebook when they came/for you… commemorated the history of that raid.
Crawford's segmentation and darkheartedness reflects on the political repercussion of the death of Furkan Doğan, on a poet's commemoration of this event, and on the artist's reconstruction and contextualising of these reflections and the historical context of these events.
The book combines quotations from Barnett's poem and other found texts that reflect on principles of democracy and images sourced from TV and the web that represent these struggles. This exploration of commemoration and history, political conflict and individual agency reflects on the nature of visual images that record contemporary political events as fleeting projections on screen, and in newspapers easily skimmed and discarded, and on the differences in representation and sensibility that poetry and the visual arts bring to bear on these terrible conflicts.
Citations:
Barnett C 2010, when they came for you, a threnody commemorating (amongst other things) the death of Furkan Doğan.
Saul J R 1995, The Doubter's Companion: A Dictionary of Aggressive Common Sense, Penguin, London, p. 118.
Megalogenis G 2011, 'The Book of Paul: Leadership and Paul Keating', The Monthly, Issue 73. p. 32.
Images: Mavi Marmara: http://www.cruiselawnews.com & http://kiaoragaza.wordpress.com/2011/09/04/kia-ora-gaza-disputes-palmer-report-on-radio-nz/
Stills: Photographed while watching ABC1, 7.45 to 8.47 pm, 22 November 2011.
Letterpress and typewriter texts with laser printed images, 23.0 x 19.0 cm. Signed and numbered in pencil. Edition of 5.
$440.00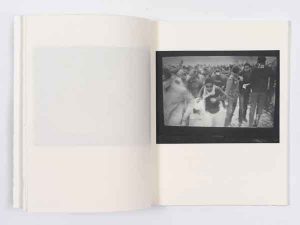 Jan Davis 1952 Australia
Democracy Counts
Tullera 2012
Two meanings of the word 'count' are in play in this work; (i) to be significant, and (ii) the act of determining the total number of something.
In Democracy Counts, Davis reflects on the electoral system, which makes a parliament accountable to the people. Small watercolour marks represent a vote for different parties. Each vote has been meticulously numbered in graphite pencil. The votes accumulate as the reader proceeds through the thirty-two pages of the book, until the total number is determined for each party and translated into seats in parliament. Each book in the edition has a slightly different outcome.
As the artist painted votes and drew numbers under them (many thousands during the production of the edition), she thought about the contribution to democracy that each person makes as they enter a voting booth and mark their electoral paper with those finely-sharpened, but rather short graphite pencils provided by the Australian Electoral Commission.
Tucked inside the back cover of Democracy Counts is a photograph Davis took on the streets of Paris during the 2012 French Presidential election, a comic reminder that not everyone believes in the power of the vote.
Watercolour, graphite pencil with stamping. Softbound red cover, stitched,with pocket in back cover containing a photograph. 32 pp. 20.0 x 30.0 cm. Nunbered in pencil. Variable edition of 5.
Edition sold out
Ref:
Grahame, N 2012, Lessons in History Vol. II : Democracy, numero uno publications, grahame galleries + editions, Brisbane. pp. 22, 23

Yvonne Dorricott 1948 Australia
The Story of the Woodlines
Bridgetown 2012
The artist has chosen the historic woodlines to tell a story of environmental and cultural changes due to past and current mining in the Coolgardie, Kalgoorlie area of Western Australia. The woodlines, light railway lines, were established in 1901 to cart the cut surrounding forest timbers to the gold mine smelters. Their design allowed for them to be easily moved to new forested areas. Little trace of the woodlines remains but the surrounding desert they helped create is silent witness to their existence.
There are two parts to The Story of the Woodlines. The first, a sheet of translucent paper written with pen and ink on both sides containing articles copied from 'The Kalgoorlie Miner' 3 June, 1901 and 'The Sun' 22 December, 1907. Articles in both these local newspapers discussed the economic, reliability and sustainability of the wood supply from the surrounding area. Use of alternative fuels was also discussed but discounted simply because denuding the country of its vegetation was the cheapest source of fuel for the smelters. By writing on both sides of the sheet reading the articles is made difficult and represents that we still are not reading the environmental lessons from past mistakes.
The second part of the book represents the woodlines map of 1900-1975, which marks out the cutting area. The woodlines were laid then lifted and moved further out as the forest was cleared. The pages are printed in a similar way to a map book, where all the pages connect to form one large area map. The ghosts of trees are copied from old mining photographs which were transferred to an abandoned rubber conveyor belt found by Dorricott at an old mine site.
Etching and relief with hand-written text on hand-made Lokta paper. 20.0 x 28.5 cm. 28 pp plus loose sheet. Signed, titled and numbered in pencil. Edition of 6.
$240.00

Dianne Fogwell 1958 Australia
Vote – Post : stamps of free speech
Canberra 2012
Another Fogwell Ex Libris publication. The artist surfed the web for images for protest placards of free speech. Fogwell turned these images into digital stamps complete with postage denomination. "The stamp has a cost, free speech has a cost so I gave them a price."
The postage stamps are interleaved with succinct quotes, such as Paul Keating's quip about John Howard, "What we have got is a dead carcass, swinging in the breeze, but nobody will cut it down to replace him." There are more by, amongst others, Oscar Wilde, Samuel Johnson, Laurence J. Peter, Noam Chomsky, Henry Louis Mencken, Bob Dylan and Abraham Lincoln.
Digital images, perforation and linocut. Soft cover binding. 15.0 x 10.5 cm. Signed and dated. Edition of 20.
$350.00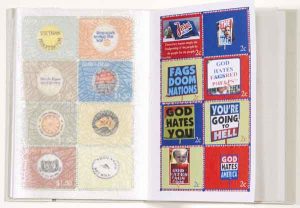 Noreen Grahame 1942 Australia
Stamp out Democracy
numero uno publications, Brisbane 2012
Used for official endorsements the humble rubber-stamp embodies power.
For just that reason rubber-stamps are employed in Stamp out Democracy.
A minimum number of words 'endorse' the message that democracy is always vulnerable. Like all dangers that begin small and are ignored 'stamp out' grows in strength with each page until 'democracy' has been 'stamped out'.
On the surface a light-hearted book commenting on the erosion of democratic rights. Below the surface, page by page, this light-heartedness is stamped out.
Rubber-stamps on Kaskad Wheatear Yellow and Curious Translucent paper. Machine bound with red cotton. 21.0 x 15.0 cm. Signed and numbered. Edition of 100.
$22.00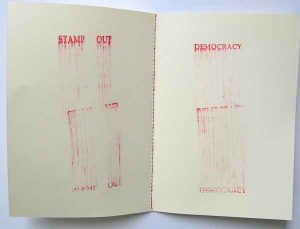 Juli Haas 1952 Australia
The Amazing Box o'Ballots
Melbourne 2012
It came as no surprise to receive a submission titled The Amazing Box o'Ballots for an exhibition about democracy. The box format is Haas' personal favourite for producing artist books, so again no surprise the box received her casting vote.
The surprise came when the delicate tissue was slowly unwrapped to reveal a cover looking something like a sideshow announcement. Gold lettering on a muted red and black background boldly proclaiming the main feature The Amazing Box o'Ballots and also featuring… The Counterator & a real crowd pleaser The Votometer and many more!!
Josef Stalin is famously attributed with saying, 'It is enough that people know that there was and election. The people who cast the votes decide nothing. The people who count the votes decide everything.' Haas' ballot box is 'stacked' with people looking forlorn and alarmed behind piles of 'their' votes. Pigeons fly in with postal votes. Three women dressed identically sit hands on head seemingly indicating they have not interfered with the count.
With a nod to the Victorian obsession with mechanical toys and the American levered machines voting systems, Haas reveals voters' dreams and nightmares. Amongst the machines is The Predictor with a pendulum swinging every which way and Vote O Meters as well as numbered cylinders ready to be inserted in The Counterator. The inside spine contains The Electric Tally Board which is being manually manipulated by a long fingered hand.
Collage of drypoint combined with mixed media. 23.4 x 20.2 x 9.4 cm. Signed and dated in box. Unique.
Sold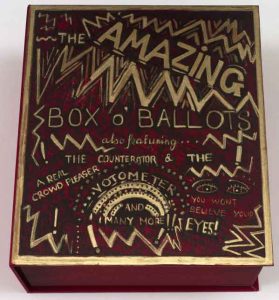 Jan Hogan 1963 Australia
Becoming, Gundaroo Common
Gundaroo 2012
Before Democracy there was commoning. Villagers had the right to make a form of living from the common in negotiation with other stakeholders. These rights form the basis for the Magna Carta. As the rights of people to make a living without interference by the state has become untenable Hogan started to re-invigorate the concept behind the original idea of commoning. How do we negotiate back our rights?The native grasses on Gundaroo Common in the Southern Highlands of New South Wales retain the traces of the shifting histories of the land from Indigenous Australians to the arrival of settlers. The grasslands were preserved under the law of commoning and act as a reminder of an ancient way of life. Becoming is an offshoot from the Common and spreads its tendril out into new environments, animating the ground with its message to reclaim the land for the common good of all. Japanese woodblock with Sumi ink & builders pigment on Kozo. 66.0 x 94.0 x 10.0 cm.
$880.00
Anne-Maree Hunter 1965 Australia
Freedom of Movement
Psyclonic Studios, Highfields 2012
This artist book is in the form of a passport, a document allowing its holder the freedom to cross borders without hindrance. Citizens of Western democracies regard this 'passport' to the freedom to move as a right. History, however, shows that oppression of particular groups of people or individuals has been made possible by the use of identity papers, passports and visas.
In Freedom of Movement the usual visa stamps have been replaced by images of shoes and purses on maps as symbols of freedom.
The barer of Freedom of Movement has, as is their democratic right, the freedom to move between exhibitions, galleries and any 'ism' they may wish to traverse.
Cloth covered booklet – soft covers, letterpress & hand stamping. Original images laser printed onto obsolete topographic maps. 9.5 x 7.0 cm. 16 pp. Signed in pencil and dated. Edition of 7.
$175.00
Suburban Democracy
Psyclonic Studios, Highfields 2012
Where is the seat of Democracy? Can it be found in the streets?
Each of our Prime Ministers has held their own sense of democracy, which coloured their leadership. As a planned city, many of Canberra's suburbs carry the name of an Australian Prime Minister. Are the citizens of these suburbs more interested in participating in democracy than the citizens of any other Australian suburb?
Suburban Democracy name checks all our Prime Ministers in a text essentially typeset with the photographed alphabet of letters covered with pages from an old street directory
Cloth covered book. Photography, Laser prints, obsolete map end papers & hand stamping. 22.0 x 16.0 x 1.5cm. 40 pp. Edition of 6.
 $475.00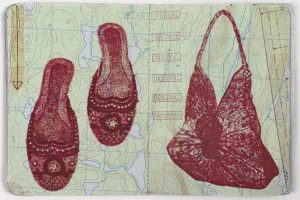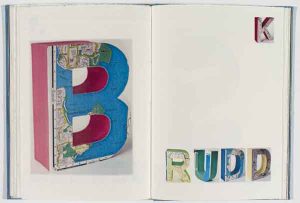 Robert Jacks 1943 Australia
A Democratic Choice of Images
Harcourt 2012
The wrap around cover to one set of 12 Robert Jacks Postcards Hand Stamped issued in 2007 in an edition of 2000, has been democratically over stamped 'top to bottom' 'left to right'.
Rubber-stamps. Titled by the artist in pencil. 15.2 x 9.0 cm. Unique
$150.00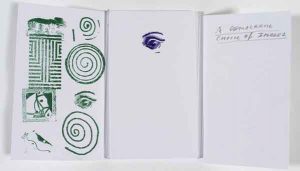 Nicholas Jones 1974 United Kingdom 1976 arrived Australia
Solon
Melbourne 2012
As an artist with a particular interest in the evolution of language, the term 'Democracy' immediately reminded Jones of early Grecian meetings in the agora and arguments about the manner in which the rules of law were to be laid down.
With the early Athenian constitution one of the great figures who emerged was the lawmaker and poet, Solon. The image carved into the front cover of this volume is a cameo of Solon, with curly short hair and a strong beard. The act of carving into and breaking the sacred flesh of a book could be seen as supremely iconoclastic gesture, yet this work aims to celebrate the freedom afforded to the citizens of a democratic society.
Democracy is a term thrown around in the press and in general conversation with little thought of its origin and Jones wanted to celebrate its beginning in this work.
Book titled 'A History of the Athenian Constitution' with carved profile of Solon. 22.2 x 14.2 cm. Unsigned. Unique.
$900.00
Joanna Kambourian 1976 Australia
Darren Bryant 1971 Australia
Filthy Lucre Playing Cards
Coraki 2012
Artist book in the form of a deck of playing cards made up entirely of Jokers.
A house of cards game as cynical metaphor for the obvious problems democracy faces in a capitalist system.
"A wise man once told me '…there's no such thing as a free lunch.'
Unfortunately for him someone bought me lunch; I emailed that wise man and let him know.
Then he beat me at online backgammon. You win some, you lose some, right?"
Two colour serigraph on Arches 88 (cards) & Rives BFK (box). Each deck (box & cards) is hand printed, cut and assembled. Box 9.0 x 6.7 x 1.8 cm. Signed
and dated in pencil2 on colophon. Edition of 30 + 3 artist proofs.
$280.00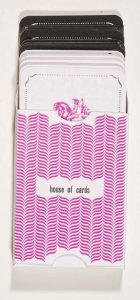 Sharon Kivland 1955 Germany
Encore un effort
France 2012
The centre pages carry the breathless descriptions of the new fashions for 1968, when anything goes and details place the accent on this or that part of the body and its adornment: a pair of shoes that have come off in a struggle, for example, the heel of one snapped off; a checked shirt, with two buttons undone; a light-coloured trench coat (perfect for a May day); a blouson-style jacket that allows easy freedom of movement; pale casual slacks worn with an ankle boot. The images are cropped from documents of violence, but attention is directed to sartorial details. Beauty is in the streets as fashion becomes democratic (or so say the houses of haute couture), while the philosopher of the boudoir extorts us once again. In the last image, to an assembled crowd of sensitive men and women, which petit-maître or dangerous man of principles would suggest that the only moral system to reinforce political revolution is that of libertinage, the revenge of nature's course against the aberrations of society?
Cropped images from a set of photographs in the student paper 'Tribune' from May 68. Centre pages are a spread of text drawn from fashion magazines of the same period in French history, but including two slogans, one from 1968 and the other from 1795. Democratically printed in a reprographic unit. 22.5 x 15.5 cm. 24 pp. Edition of 100.
$16.50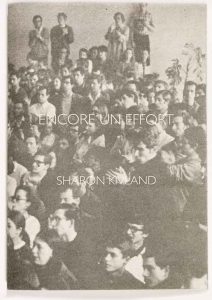 Holger Kueper 1978 Germany
Republic of Art
Dortmund, Germany 2011
At last we have a hero. A hero who recruits an armee to fight a great battle in heaven and on earth. Who creates the Republic of Art on the 18th December 2010 in front of Cologne's cathedral.
The new republic's constitution has 19 articles. The first article: In the Republic of Art no one has to accept reality and everybody has to have illusions.
Our hero becomes the first citizen of the Republic of Art but finds that evil has survived and that it is dreaming of destroying the world on day.
Mixed media. 29.5 x 21.0 cm. Sighed and dated in pencil. Unique.
$600.00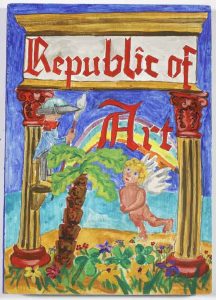 Peter Lyssiotis 1949 Cyprus arrived Australia 1954
THIS IS WAR
Masterthief, Melbourne 2011
This Is War asks that question: Democracy? At what price? If we defend democracy with guns – or , does it deserve to be called democracy? If we export democracy in a shopping bag full of conditions and limitations and obligations and deliver it under armed guard does that justify all the deals?
Churchill's dictum that democracy is the worst system of government apart from all the others that have been tried, opens up the whole concept of a Hollywood Democracy.
This is War depicts a version of some of the conflicts Australia has involved itself in, in the name of Democracy.
In a democracy we know that in the end everything will be OK, don't we? What do "fledgling democracies" learn from shopping bag (& armed guard which we leave on its doorstep?)
As the sermons we hear coming out of the mouths of the leaders of democracies, become longer and longer, the intentions of democracy become less clear. startupdemocracy.com. But perhaps it all ends at the point where Claude Levi Strauss said, "The world began without man and will end without him." Can the true era of democracy begin at that time.
Offset printed. 21.0 x 15 cm. Signed and dated. Edition of 18.
$850.00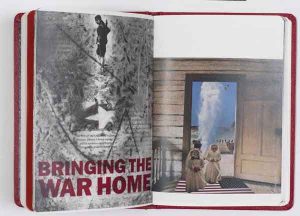 Fiona MacDonald 1956 Australia
Practical Democracy A Jazz Send Off
Woolloomooloo (Big Fag Press) 2012
The title of MacDonald's book refers to the contribution made by Mick Fowler to the process of defending his home in Victoria Street and to that of his neighbours and friends in Woolloomooloo by engaging and practicing grass roots democracy.
Sadly, Mick died not long after the battles for Victoria Street and Wooloomooloo were won. Many of his friends believe it was the strain of the drama of battle for his home that brought about his early death. But he was not the only one to pay the ultimate cost of practicing democracy. Juanita Nielson, a friend and neighbour of Mick's, met her tragic and still mysterious end during this campaign. Graffiti dollar/dagger signs with her name appeared mysteriously throughout Kings Cross after her disappearance. Research has revealed the graffiti was the work of young artist, Peter Kennedy, who remembers being outraged by the events of the period and the blatant criminal interference in the democratic process that was a hallmark of the period.
Concertina format made from cut down sections of print proofs made at the Big Fag Press, Woolloomooloo, about the Green Bans of the early 1970s as part of a 40th anniversary project. The proofs had used both sides of the paper as the edition was prepared and this seemed like a perfect opportunity to turn the two sides proofs into a book. Box board covers, concertina pages printed offset on Dutch etching paper. Text Geotype. 30.0 x 21.0 cm. Edition of 2.
Sold

Heather Matthew 1957Australia
Occupy
Nunderi 2011
Democracy – from the Greek ΔΗΜΟΣ – the commons, the people, citizens: hence a popular constitution, democracy and ΚΡΑΣ – collective of 'the head' , κρáντωρ , a ruler, sovereign.
In June and July 2011, the Greek debt crisis focused world attention on protesters in Syntagma Square, adjacent to the Greek parliament, the birthplace of democracy.
In the proceeding months, people's protest movements became an internet connected and organised 'Occupy' movement, urging people to occupy public spaces, especially squares like Trafalgar Square and Times Square. The rallying call was 'we are the 99% (of the worlds population) we will no longer remain silent'.
Occupy is a response to the events currently unfolding in contemporary history. The book itself 'unfolds' as step by step it opens to reveal a grid of squares onto which four stitched book placards can be assembled to 'occupy' the space. Each of these placard books uses text sourced from Greek protest posters and contains DIY instructions printed on handmade paper on how to occupy a public space and create new global social systems. The loose red threads connect both place (Greece) and ideas over space and time.
Liddell and Scott's Greek – English lexicon. Oxford: Longmans, 1909. pps. 349 & 391
Screenprinted and handmade papers. 10.0 x 10.0 cm. Unique.
$250.00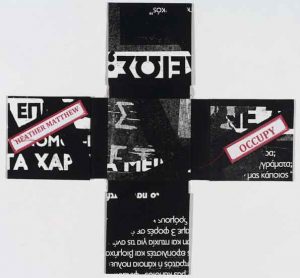 Helen Mueller 1949 Switzerland arrived Australia early 1970s
Makers' Mark
Sydney 2011
The fingerprint along the fore edge of Makers' Mark is made up of 344 individually printed linocuts. Each unique print is stacked one atop another to form the powerful image of one fingerprint.
The idea behind this book is that, just as a book is made up of individual pages, a democracy is made up of the 'imprint' of each participating individual. Additionally, in some societies, the fingerprint is also proof of having cast a vote.
As a concept, the unbound book, or stack, reflects the artist's interest as a printmaker in the multiple and the serial nature of the printing process and her fascination with books and book-like structures. It also embodies the printed edition or series presented as an object. Mueller's books consist of a large number of usually relief prints on paper resting one atop another, which also reveal the printed images or text on the edge. A stack, as a collection of pages, stands for both the story and the book containing it.
Anxiety surrounds our concern about the book. An anxiety fuelled by worry about what effect electronic media might have on the book's future. Mueller's books reflect this anxiety. They are made of a collection of a large number of unattached pages precariously stacked, ready to disintegrate at the slightest shock.
Unbound book comprising stacked linocut prints each numbered in pencil; 18.0 x 21.0 x 12.0 cm. Titled, signed and dated in pencil. Unique.
Sold

Monica Oppen 1964 Switzerland arrived Australia 1964
Dare to VOTE!
Ant Press, Sydney 2012
We place a lot of importance on democracy. Yet our system of democracy would not have been recognise by the ancient Greeks as democracy. Is this why some countries seem to fake it? Are we faking it? But would we consider the ancient Greek system democratic? Only a select group of male citizens were allowed to vote. Women and slaves, more than half the adult population, were excluded.
This book comes with pencils so that all readers can vote— for or against democracy. If they dare!
Printed letterpress from lino blocks, photopolymer plates, wood type and with rubber stamping on Magnani Velata Avorio paper, hand bound housed in box with pencils. 16.5 x 19 cm. Unsigned edition of 50.
$250.00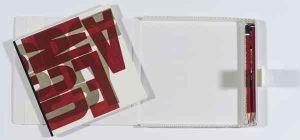 Gaye Paterson 1949 Australia
Jednom / Once
Melbourne 2009
(from the original artist book published by Editions + Artist Book Studio, Canberra 1999)
When 10 year old Borislav Mihajlovisk wrote this poem Jednom his country was at war. Marshal Tito had controlled Yugoslavia from 1943 until his death in 1980. This communist dictator had suppressed nationalist sentiment and promoted unity. Communism was dying; the Berlin wall pulled down; the Cold War was history.
In 1991 the fragile unity of the 6 Yugoslav nations started to disintegrate. The remaining protagonists, Serbia, Croatia and Bosnia Herzegovina turned on each other in a war driven by nationalist thuggery. Their murderous war ended in 1995 with the Dayton Peace Agreement. They limped into the 21st century amidst their ruins and accusations and assassination of Serbia's Prime Minister Zoran Dinđić. By 2009 Serbia, Croatia and Bosnia Herzegovina had established parliamentary democracies. These former Yugoslav countries had once been part of the Austrian-Hungarian Empire and the Ottoman Empire, had their own kingdoms, been divided during the World Wars had collectively come under communism and finally separate democratic nations.
Dedicated to Nevena Vuckovic Sahovic for her dedication to child rights.
Grey embossed wrap-around cover. Computer text in Serbian and English printed in one strip and folded. 12.2 x 12.2 cm. Numbered in pencil. Edition of 25.
$50.00
David Patrick
under it
Southside, Glasgow Scotland 2012
World Book Dictionary definition: Democracy: a government that is run by the people who live under it.
Patrick uses that definition as a starting point to explore aesthetics, observations, criticisms and reflections.Front jacket – lino etching printed in black ink on hand torn 300g Somerset Satin. An ink stamped '?' is printed in the corner of the back jacket. Pen, pencil and digital images ink jet printed on white paper, torn & machine cut. Hand bound. 22.5 x 15.5 x cm. 20 pp. 1st edition. Signed and numbered in pencil. Edition of 12.
$50.00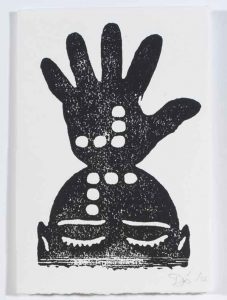 Hilda Paz 1950 Argentina
Todos Juntos
Buenos Aires 2012
The title Todos Juntos 'All Together' is painted on canvas cover. The main section, a foldout linocut, shows five figures, backs to viewer, looking towards the light of democracy for South America. To emphasise the importance of 'all together', the figures, repeated four times in the double fold, cast long shadows from the powerful light of democracy. Hopefully indicating the success of democracy in South America.
11.0 x 23.5 cm. Signed, dated and numbered. Edition of 7.
Sold

Michael Phillips 1959 Australia
The Democracy of Disease
Brisbane 2012
The mystery of disease, the mystery of identity and place and time are combined in Phillips' book. The pages have been made by two overprints on make-ready sheets in blue.
In the first overprint (purple) pathology slides documenting various diseases of the human urological system have been scanned and used for imagery commenting on the mystery of the democracy of disease. On each slide in a small neat hand is the patient's name next to images of their failing organs and tissue.
The second overprint was made from negatives found in a tobacco tin at a London flea market. The identity of the people and places in the negatives and the decade they were made remain a mystery. Did they document a holiday taken by two bothers and friends? somewhere in the Mediterranean? in the 1930s? Phillips adds the subject of diseases to the mystery. The scanned negatives are used in the second overprint (orange/brown).
The plain white cover with title in black belies the richness of the images, which entice the viewer to enter the mystery of the democracy of disease.
Offset and digitally printed. 21.0 x 14.0 cm.
$22.00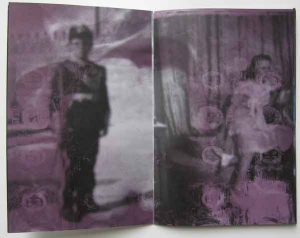 Sean Phillips 1965 Malaysia arrived Australia 1981
Selected Corrected Democracy Documents
Brisbane 2011
Reel of typewriter correction tape mounted in Perspex box accompanied by A4 sheet.
On each of the four sides of a white plinth appears one of each of the four words from the title of Phillips' Selected Corrected Democracy Documents. Immortalised atop the plinth is an expended roll of typewriter correction tape enclosed in a Perspex box.
The roll of typewriter correction tape contains 'corrected' text selected from documents fundamental to the history and principles of democracy; The French Declaration of the Rights of Man and Citizens; The Universal Declaration of Human Rights; Amnesty International Twelve-Point Program for the Prevention of Torture; Inter-American Convention to Prevent and Punish Torture.
Using a Brother AX250 electric typewriter Phillips typed his selection onto a white A4 sheet of paper. As the Brother AX250's correction memory extends to only one line, the artist was limited to typing a single line of text and then 'correcting' it by changing to correction mode. The correction tape automatically overtypes each letter beginning with last letter typed and moving back to first letter. Phillips repeated the process line by line. The correction tape came to an end on the last line leaving three 'uncorrected' words.
The process transferred the text from the A4 sheet to the correction tape. The text was not changed but now is simply reproduced in negative. Thus the term 'corrected' is ironic, as it is only true in an absolutely literal (mechanical) sense. The text on the original A4 sheet has not been effaced. It remains a 'ghost' that can, albeit with difficulty, still be read.
Box 10.5 x 8.5 x 8.5 cm. Unique.
Sold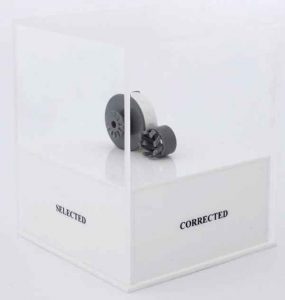 Ian Pyper 1955 England
Concealed Democratic Choice
England 2012
The artist made a democratic choice to take the first book that came to hand in a second hand bookshop. He then wrapped his choice in a bandage thus concealing his democratic choice.
Anonymous, coverless paperback book, crepe bandage and retaining clip. 19.5 x 11.5 cm. Unsigned. Unique.
$220.00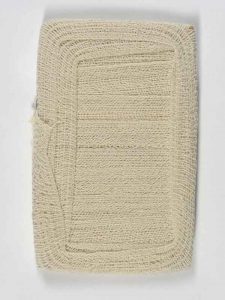 Paula Quintela 1967 Chile arrived Australia 2007
Nineteen Seventy Three
Brisbane 2012This artist book is an historical link through the eyes of a child experiencing the overthrow of democracy in Chile on 11 September 1973. It recalls the events during the Pinochet takeover, through a series of 195 individual slides; the bloody murders reflected in the red slides, the mass graves in the brown slides, the missing in the absent slides, and the impassioned speech of President Allende, just before he took his life, in the text slides.Nineteen Seventy Three reflects the fear and uncertainty of not only a young family, but also that of an entire country. Aluminium glass slides, solar plates, collographs, wooden box. 26.0 x 19.0 x 6.0 cm. Unique.
$1,800.00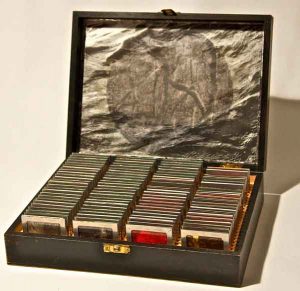 Judith Rosenberg 1944 England arrived Australia 1973
Democracy
Nambour 2012
The book's covers are deep blue buckram with Democracy in bold gold lettering on front cover.
Seven short pieces of text introduce an etching on following page:
The Bee as Metaphor
Greece and Slave Ships
Italy and its Military
Switzerland and the Cuckoo Clock
American Statue of Armoury
Australian Indigenous Land Rights
The Bee
Both text and images refer to several so-called democratic societies. The first and last etchings relate to the Honey Bee as a metaphor for human society. The other five plates illustrate that democracy has no clear-cut definition but is relative to any particular civilisation.
One-colour etchings printed on 300 gsm Hahnemühle paper. Text printed on 145 gsm Zerkall paper. 18.0 x 27.7 x 10.2 cm. Signed, dated and with edition number and title in pencil beneath each etching. Edition of 3.
$220.00

Michael Schlitz 1967 Australia
the portable truth
Hobart 2011
We have the feeling that, if only we could open the portable truth, we might discover what's locked inside Schlitz's bronze and all our questions about democracy would be answered.
the portable truth is solid bronze adorned with a handle so that it is available for reference at all times. The solid bronze is heavy, very heavy, perhaps indicating the strength required to protect democracy.
Cast bronze. 17.5 x 12.5 cm. Signed, titled and dated. Unique.
$3,500.00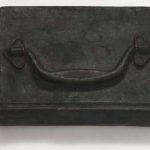 Alex Selenitsch 1946 Germany arrived Australia 1949
Ideal City: book of policy with action items
Melbourne 2012
Some things, like birth and death, are bi-partisan, but between these events, there are agreements and disputes. Parties, coalitions, alliances and accords come and go. Parliament is democracy's arena, but much activity is initiated outside it. Privilege, power and personality can be orchestrated or spontaneous to focus attention, influence and even neutralize the elected.
Seven wads of paper with different bindings – and some minority sheets as independents – are bound together to make this book. Each of the wads (of signatures/reports/parties) is stamped with the logo from Selenitsch's Ideal City project. The wads are bound together with a somewhat brutal touch, and cannot be completely opened. Paper that was hacked out from the policy pages has been put in a plastic bag as a memento of inevitable compromise. The action items are bookmarks which can be inserted anywhere, to plan or at random.
Ideal City: book of policy: photocopy and stamp on various papers and card, various bindings, tape; digital print on card. 1076 pp.
7.5 x 24.5 x 38.0 cm. Unique.
Ideal City: bits of compromise from the book of policy: paper and card discards in plastic bag with seal. 5.0 x 26.0 x 20.5 cm.
Ideal City: bits of compromise from the book of policy: plus action items/bookmarks:
$452.00 – Price represents double the number of members of House of Representatives and the Senate.
action items/bookmarks: digital print on card in manila envelope with stamp
cards 21cms long, variable widths. Edition of 7.
action items/bookmarks
$100.00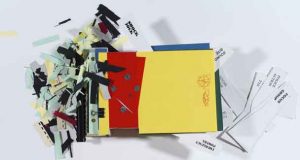 Glen Skien 1959 Australia
Atlas 1
Brisbane 2012
This is the first in a series of seven artist's books that reflect upon a more autonomous/democratic method for mapping a connection to place.
The artist introduces a visual language in Atlas 1. This new language dances sparingly across the rich mono-print pages, its changing combinations creating new spontaneous forms on the landscape. Atlas 1 evokes a sense of a cartographic journey of surface that is neither associated with ownership nor possession. For Skien the survey-like numerical notations on each page act as a type of historical referencing to the often covert forms of the early European settlers' needs to re-inscribe place as a form of ownership.
Mono-print, bitumen and white charcoal. 67 pp. 56. 0x 39 .0 cm. Unique.
Sold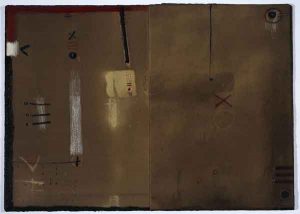 Bernie Slater 1977Australia
Caren Florance 1967 Australia
Freedom
Ampersand Duck, Canberra 2012
Democracy is a device that ensures we shall be governed no better than we deserve.
George Bernard Shaw
Western democracy defines itself by notions of Freedom. We believe we have individual freedom, freedom of speech, free markets and freedom of choice. We also believe all we desire can be ours at the click of a button or the scan of a code. And like Huxley's Brave New World, we are comfortable, suggestible and oblivious to the real efforts needed to sustain genuine democracy.
This book taps into our western modern notion of Freedom. Each chapter is a Quick Response (QR) code that readers can scan with their Smartphone. The chapters link to images, text and videos: distractions, titillations, confusions and generalisations. There is a dissonance between the format of the hardbound book as the traditional holder of knowledge, and its contents, the QR links to the Internet. Although the Internet is a powerful tool for accessing information, knowledge, and freedom of speech, we opt to use it for distraction, trivia and titillation.
The word Freedom is letterpressed on cover in black on black cloth. Could this signify that true freedom is not contained in the in-your-face QR codes?
Laser-printed, 15.0 x 15.0 cm. Hardbound with letterpressed bookcloth, 16 pp. Signed and numbered. Edition of 5.
$350.00
Doug Spowart 1953 Australia
Victoria Cooper 1957 Australia

Art is always the best policy
Toowoomba, Centre for Regional Arts Practice 2012
Recent democratic debate in Australian politics has been apprehended by special interest lobby groups. It is now time for artists to stand up and be vocal to capture their share of the political scene.
This policy booklet presents the Regional Artists for Government Election (R.A.G.E.) campaign and its political demands. The R.A.G.E. policies at first seem flippant and glib, however, as we have experienced in contemporary politics, the absurd can, with the right 'spin' and 'media cycle', become plausible – in fact, even highly appealing to the voters, leading to positive opinion polls and success at the ballot box.
SUPPORT R.A.G.E. – Join the Art Revolution Today.
Digitally printed. 15.0 x 10.5 cm plus Ballot Paper. 10 pp. Signed and numbered in pencil. Edition of 25 + 5 proofs.
 $25.00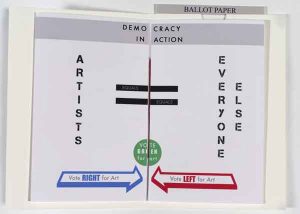 Stephen Spurrier 1945 Australia
Double Dog Democracy & Red Dog Democracy
Ugg Boot Press, Toowoomba 2011
Most of us love dogs. They come in all shapes, sizes and colour combinations as a result of thousands of years of selective breeding from a variety of wild wolves from around the planet. This selective breeding fulfills a range of mankind's needs but breeding for appearance alone can impact on the health of the animal.
This series of books explores the concept that Dogs should now be the ones to determine their own destiny by taking control and having the option of choosing their owners or breeders. In Double Dog Democracy potential owners are revealed.
Double Dog Democracy 9.5 x 21.0 cm. Red Dog Democracy 10.0 x 10.5 cm. Both books: Digital prints. Signed and dated. Varied unlimited editions and various volumes.
Canaries for Democracy
Ugg Boot Press, Toowoomba 2011
For centuries Canaries have had a checkered career. They have been used as the litmus test in coalmines, manipulated by breeders and owners since the 17th century, used for medical research and in some cultures even used in blood-sport activities. The time has arrived for canaries to take control of their lives and democratically choose their owners.
Digital prints 9.5 x 10.5 cm. Signed and dated. Varied unlimited editions and various volumes.
Democratic Domestic & Undemocratic Domestic
Ugg Boot Press, Toowoomba 2011
A series of artist books investigating the uniqueness of domestic life – each situation is different, based to a large degree on the uniqueness of those in each household – couples, parents, children, relatives, dogs, cats, canaries, guinea pigs and various other pets. Different careers, working (or non-working) hours, schooling, sporting and social activities all play a part in making each day unique. Who is happy and who isn't in this typical suburban mix? And what levels of fair play and justice exist – democratic domestic or undemocratic domestic?
Both books: Digital prints. 9.5 x 21.0 cm. Signed and dated. Varied unlimited editions and various volumes.
All editions $50.00 ea.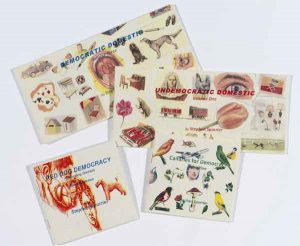 Madonna Staunton 1938 Australia
Alphabetical Alpha-Betical Notes Democracy: The Grace ful State
Brisbane 2012
Small pages of lined notepaper are packed with drawings, collages and hand written notes. The book is divided into two sections. Selected letters from the alphabet with added comments on democracy make up the first and main section, while the second section contains 'random notes'.
The introduction to Staunton's artist's book is a collaged card from a 1920s Pianola roll offering 'Little Crumbs of Happiness' and what wonderful crumbs we discover.
Amongst her alphabet Staunton has included 'I is for intuition: Let intuition be informed by humour'. The 'D is for democracy – a work in progress' page reflects the artist's doubts not only about democracy but also about her work in this book. Does it work Staunton asks? It certainly does. But the question on whether democracy works is left open.
Staunton started on the three sets of 'random notes' on 1st April: Mao Tse-Tung is under examination with 'The Sinif-ication of Marxism', while Nietzsche is 'bothered by facts' and the end comes at 'an interesting resting place' accompanied by a Michael Dransfield's poem in Staunton's hand.
Drawings, collages with hand written notes. Ring bound and housed in Perspex case. 10.3 x 8.0 cm. Signed and dated. Unique.
Sold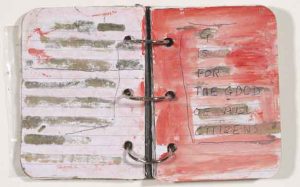 Mary Sutherland 1941 New Zealand arrived Australia 1955
Democracy Semantic Shift
Melbourne 2012
The concertina format Sutherland has employed allows the viewer to see at a glance both the clear ideals of democracy and the murky processes threatening to engulf them.
The book focuses on how ordinary words have changed. How these changes give them more sinister meanings and how hard it is to make sense of biased information. The citizen with rights and responsibilities is now "a customer" who must negotiate a maze of concealed information, bureaucratic hurdles and "services".
On each double page spread the artist has cut a 'reversed' double page and printed one letter from the word democracy on each side of the reverse'. This letter introduces the theme for each page.
Concertina format. Computer formatted an printed by solvent transfer. 20.0 x 14.5 cm. Signed, dated and numbered in pencil. Edition of 4.
Price $400.00

Kim Tarpey 1958 England arrived Australia 1965
Learning How to Compromise
Panton Hill 2012
This book of Poetry and Prose embodies two suites of etchings 'The Credulous Ones' (2010) and 'Des Pastoral' (2012).
In 'The Credulous Ones' Tarpey has used Australian Colonial themes in allegory to depict present day attitudes to the indigenous landscape and its creatures. For the early settlers the fauna and flora of this land challenged preconceived notions prompting them to defensively surround themselves with things more familiar. Represented also are the dramatic iconic events dating from the 1850s, their residual effect forming the national identity and the optimism for the creation of a new and better society with Federation.
'Des Pastoral' looks at the tensions that exist in a rural community repairing itself after a disaster. Tarpey has used bees – a symbol of industry, to depict their usefulness as well as their dangerousness. The native and threatened Teddy Bear Bee also puts in an appearance.
11 etchings/aquatint with watercolour. 10 poems and one piece of prose. Hand made paper hard cover with Coptic binding. 41.0 x 36.0 cm 36 pp. Numbered in pencil and signed on title page. Variable edition of 10.
$1,000.00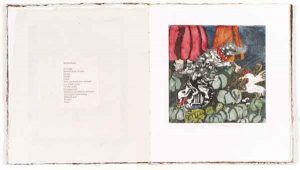 Judy Watson 1959 Australia
Set of three altered books: colouring in history
Brisbane 2012
Using 'blood' colour pigment Watson 'democratically' altered selected pages of three publications aimed at 'educating' the young about cultural and racial differences. Watson's interventions highlight the cultural blending and democratisation that have taken place since these original texts were published.
book one: europiforms, negriforms, australiforms
A quasi-scientific journal published weekly 'Understanding Science' discusses head shapes and hair types of various races.
book two: nomads or wanderers
'Around the World – in colour', retitled by Watson as nomads or wanderers, contains observations such as this one about Australian Aboriginals, 'They are very useful, for they are clever at finding their way across the vast empty lands in the interior.'
book three: the colour bar
Two pages 'A Brief Look at Political Africa' were selected by the artist for intervention.
From a book titled 'The Illustrated Book about Africa' published in London in 1959 the artist has selected the section 'A Brief Look at Political Africa' to underline the colour bar that existed and perhaps still exist between the European judgement of peoples in Africa and reality.
3 altered books. Watercolour. Open at altered pages, book one: 31.0 x 49.0; book two: 32.0 x 51.0 cm; book three: 33.0 x 52.0 cm. Unique.
$1,000.00
Emma Miller Hatpin
The artist and grahame galleries + editions, Brisbane 2012
Emma Miller was a feisty woman, a seamstress and women's rights and labour activist. During the 1912 'Black Friday' tramway worker's strike in Brisbane she led a group of women on a march to protest in support of strikers outside Parliament House. A wall of police blocked the women's progress charging them on foot and horseback. The women fought back as best they could with the diminutive Emma, who was over seventy, leading the way by plunging her hatpin into Police Commissioner Cahill's horse and unseating him.
Emma's hatpin is a metaphor for feminine strength and resilience and a symbol of protest, from a small delicate form pitted against brute strength and an attempt at intimidation of a group of people wanting better conditions for themselves and their fellow workers.
Multiple (still in progress). Register interest.
Margaret Wilson 1939 Australia
Ambiguity
Brisbane 2012
These pages reflect a literal search of word origins and the ambiguities relating to the original Greek.
The concerns of Athenian philosophers such as Plato, Socrates and Aristotle indicated their lack of acceptance and their preference for viewing government as a specialized skill and not for amateurs. Euripides famous dialogue, in The Suppliant Women, between Theseus, the King of Athens and a herald delivering a message from King Creon of Thebes asking to whom he should give the message: "Who is King absolute here?" exemplified this antithesis with Theseus' reply:
This state is not
Subject to one man's will, but is a free city.
The king here is the people, who by yearly office
Govern in turn. We give no special power to wealth;
The poor man's voice commands equal authority.
The herald says:
The city I come from lives under command
Of one man, not rabble…….
The common man!
……Even though he be no fool – how can he turn his mind
From ploughs to politics?
Mixed media, collage, graphite, rag paper and red tape
10.0 x 66.0 cm. Signed, dated and titled in pencil back cover. Unique.
$300.00

Karen Zimmermann, 1962, USA
Corridor
The artist and Spaceheater Editions 2012
Power and powerlessness share the riverbed of the Rillito River in Tucson, Arizona.
Powerlessness is etched into the riverbed that 'runs' dry for most of the year thanks to damming. The powerless and homeless in society make their homes there until the river's power returns with mountain snow thaws, which flow and bring life back to the river. Zimmermann says that long ago before dams were built the river flowed all year long and people could take a ferry to the sea, south, where there is another margin, that of the country's border with Mexico.
The preface states 'Whiskey's for drinking;' and the epilogue brings us to the reality that 'Water's for fighting' quoted from Mark Twain.
Digital photographs and text. 16.0 x 20.7 cm. Unsigned. Edition of 7.
$190.00