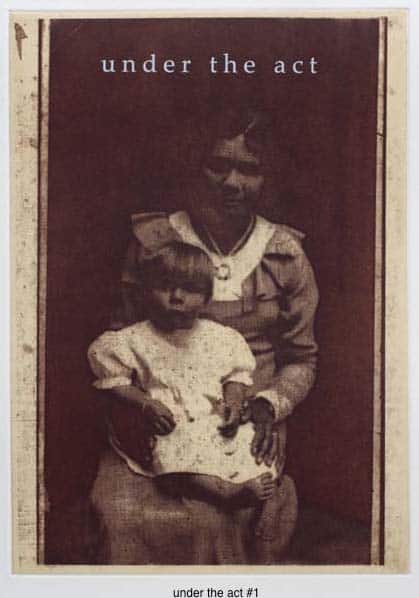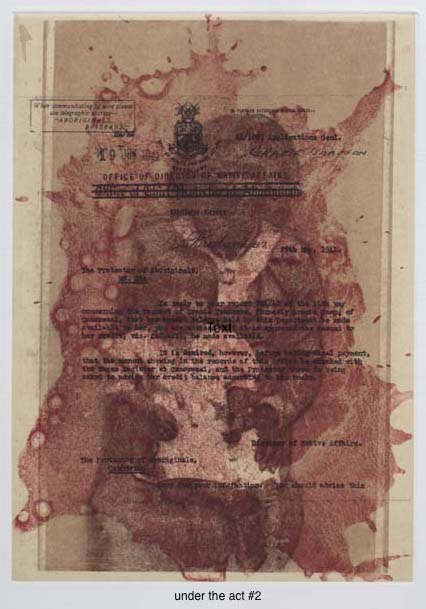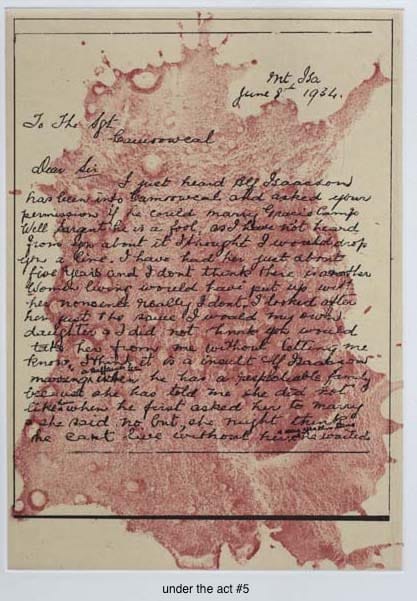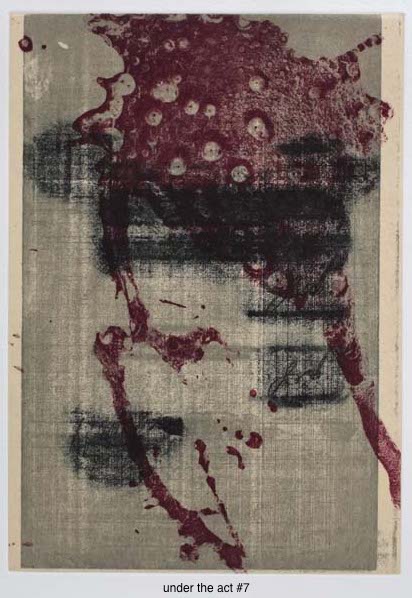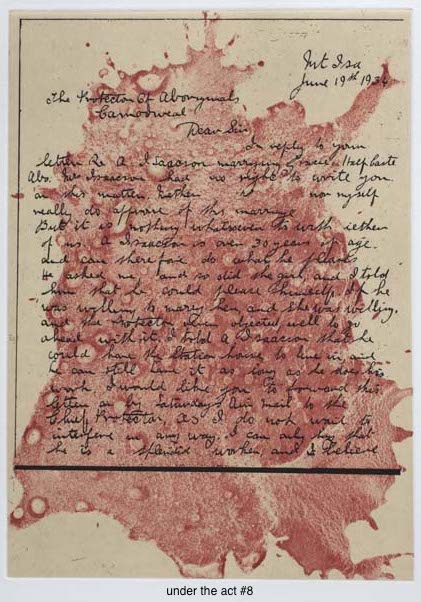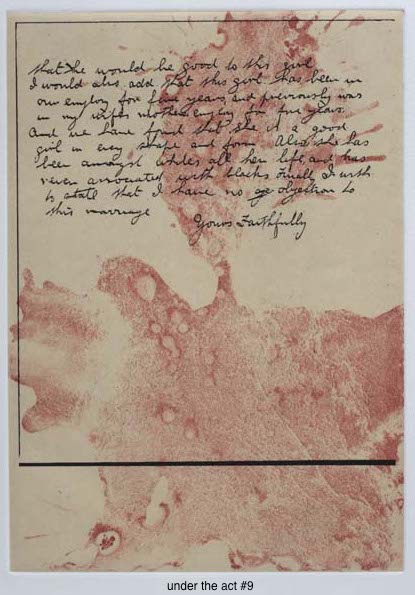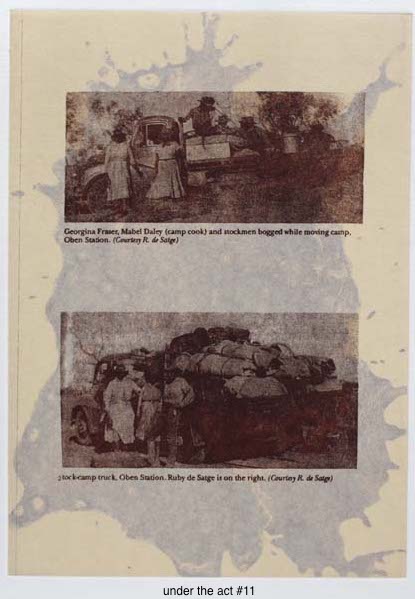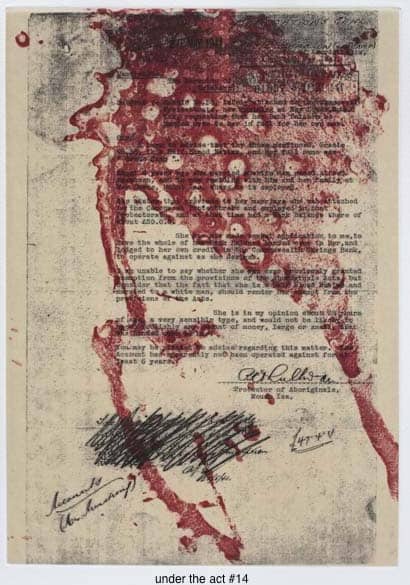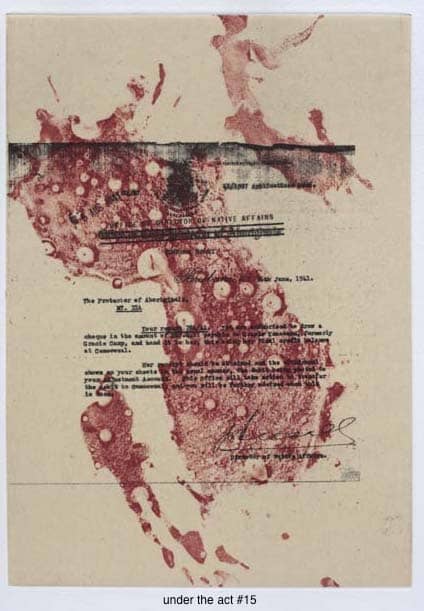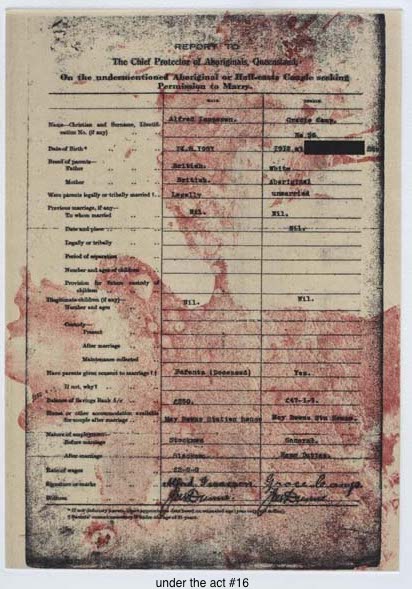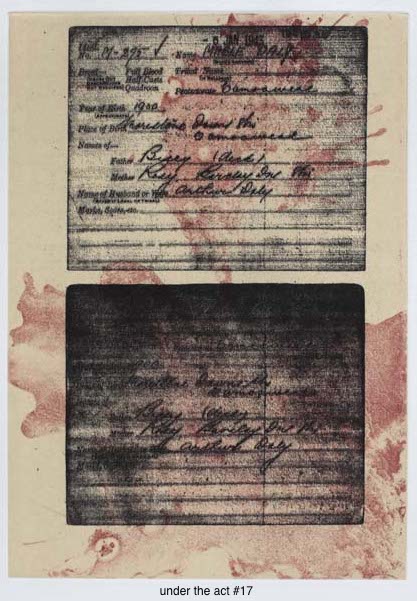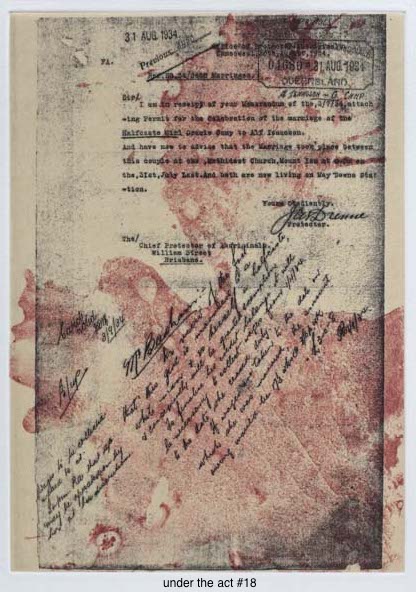 Judy Watson has drawn on letters, papers and official documents found in the Queensland State Archives, as well as personal family photographs as a base for under the act. The documents from the archives pertain to her great-grandmother and grandmother who lived under the Aboriginal Protection and Restriction of Sale of Opium Acts of 1897. The documents also reveal the categories, "full blood", "half-cast", "quadroon", "octoroon", ascribed to Aboriginal people of the day.
One document from the archive, which Watson used, is her great grandmother's 'exemption card'. These cards allowed holders to live and work outside the reservations. They were called 'dog tags' by their holders, as they were obliged to carry them on their person at all times. Also included are letters of objection from various parties to authorities at the time Watson's Aboriginal grandmother and white grandfather were seeking permission to marry.
Using etching, lithographic techniques, silkscreen and stamping this work makes a powerful statement about life for all Aboriginal people who lived Under the Act.
Twenty etchings with chine collé in an edition of 20. 42 x 30.5cm in folio 43 x 32cm. Printers: Basil Hall Editions. Bound by Fred Pohlmann. Published in edition of 20 on the occasion of the exhibition Lessons in History held at grahame galleries + editions March/April 2007.
Published by Judy Watson and grahame galleries + editions
Price $15,000.00
Ref: (selection)
Abraham, D. and Ryan, M. (eds.) 2009 Yapang marruma: making our way (stories of the stolen), Lake Macquarie City Art Gallery, Booragul, NSW.
Arzt, M. Kelly, D. Motz, F. Niessen, C. Pupat, H. Trischler, R and Volz, U. 2009, Terra Nullis – Zeitgenössische Kunst aus Australien, Vierzehn No. 6, Halle 14, Leipzig. p. 12 (Illustrated).
Davis, J. (ed.) 2009, Stories of our Making : contemporary prints from Australia
Bower Ashton Campus Gallery, the University of the West of England, Bristol, UK. 14-19 September 2009. (illustrated).
Kennedy, R 2011, 'Indigenous Australian Arts of Return : Meditating Perverse Archives', in M Hirsch and N K Miller (eds.), Rites of Return : Diaspora Poetics and the Politics of Memory, Columbia University Press, New York. pp. 88-104, p. 95 (illustrated).
McDonald, G 2012, 'Culture Warriors : As cultural diplomacy', Artlink, Adelaide, vol. 32 no. 2, pp. 38-42.
Quaill, A. 2007 'Judy Watson' in: Clark, D. and Jenkins, S. (eds.) cultural warriors : national indigenous art triennial '07, National Gallery of Australia, Canberra. p. 168, p. 171 (illustrated).
Ryan, M. 2009, The Museum Effect, Lake Macquarie City Art Gallery, Booragul, NSW. (illustrated).
Sever, N. (ed.) 2008, Etched in the Sun, Australian National University, Canberra. p. 4 (illustrated), pp. 36-37 (illustrated).
Voltz, U. and Motz, F. 2009, Vierzehn 6, Halle 14 e.V., Leipzig. p. 12 and poster insert.
Watson, J and Martin-Chew L 2009, Judy Watson blood language, The Miegunyah Press Melbourne University Publishing Limited, Carlton, Vic. pp. 76-79 (illustrated).
Exhibited:
2019 Politics of Place, Center for Book Arts NYC, New York, USA
2017 &So… Queensland College of Art Library, Griffith University
2015/16 Une histoire du livre d'artiste australien, Cabinet du livre d'artiste, Université Rennes 2, Rennes, France.
2015/16 Discerning Judgement Supreme Court Library Queensland, Brisbane
2015 Daughters Mothers, Sydney College of the Arts, Sydney
2015 Toowoomba Regional Art Gallery, Artists' Books from the Centre for Artists' Book
2015 Lore and Order, Lake Macquarie City Art Gallery, NSW
2012 Life's Journey: Artists books from Queensland collections, Redland Art Gallery, Cleveland, Qld.
2010 Prints around the Pacific Rim Carleton College Art Gallery, Minnesota USA
2009/10 Stories of our Making : contemporary prints from Australia, Tweed River Art Gallery, Murwillumbah
2009 cultural warriors: National Indigenous Art Triennial '07, National Gallery of Australia touring exhibition: QAG
2009 Yapang marruma: making our way (stories of the stolen), Lake Macquarie City Art Gallery, Lake Macquarie, NSW
2009 The Museum Effect Lake Macquarie City Art Gallery, Lake Macquarie, NSW
2009 Terra Nulllius : Zeitgenössiche Kunst aus Australien, ACC Galerie, Weimar, Germany. Toured to Halle 14, Leipzig, Germany
2009 Stories of our Making : contemporary prints from Australia Bower Ashton Campus Gallery, the University of the West of England, Bristol, UK
2009 cultural warriors : Australian Indigenous Art Triennial, National Gallery of Australia touring exhibition, American University Museum at the Katzen Arts Center, Washington D.C., United States of America
2008 cultural warriors: National Indigenous Art Triennial '07, National Gallery of Australia touring exhibition: AGSA; AGWA
2008 Etched in the Sun : Prints made by indigenous artists in collaboration with Basil Hall & printers 1997 – 2007 ANU Drill Hall Gallery, Canberra, ACT
2007 Lessons in History Vol. 1, grahame galleries + editions
2007/08 cultural warriors : National Indigenous Art Triennial '07, National Gallery of Australia
Collections:
Baillieu Library, University of Melbourne
National Library of Australia
State Library of Queensland
Southern Cross University
Carlton College, Northfield Minnasota. USA
Bibliotheca Librorum Apud Artificum
Lake Macquaire Art Gallery
University of Queensland Art Museum, The University of Queensland
Kluge-Ruhe Aboriginal Art Museum, UVA, Charlottesville
Private collections