Madonna Staunton
exhibition
artist's book object – Dream Trolly (2013)
7 – 20 December 2013
Text around sides of 'book':
Side 1 (short side) DREAM TROLLY
Side 2 (long side) (signed) Staunton DREAM (date is not clear but made in 2013) QLD
Side 3 (short side) no text
Side 4 (long side) TEXT S BECKETT
Trolley is painted also with polymer paint with text added in gold.
Text around sides of trolley:
Side 1 (short side) WHOSE SIL (?)
Side 2 (long side) ITS ALL THE SAME D
Side 3 (short side) REAM BUT
Side 4 (long side) WHOSE DREAM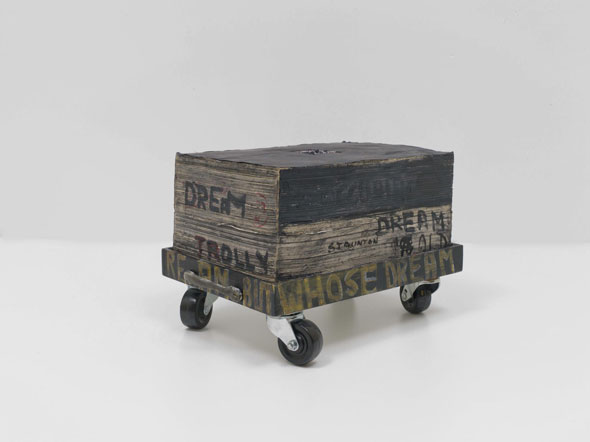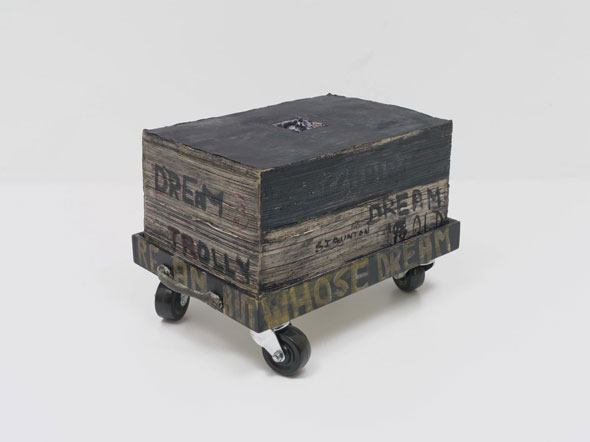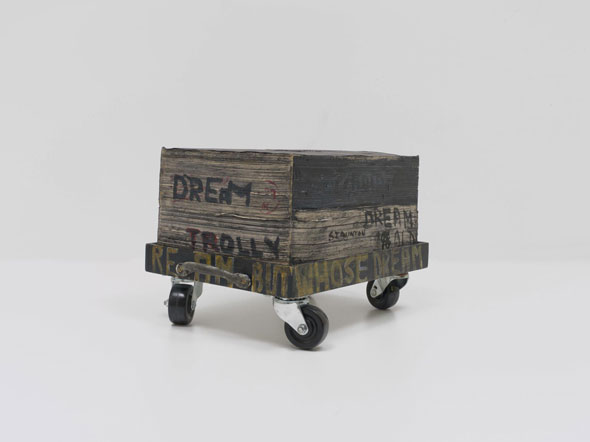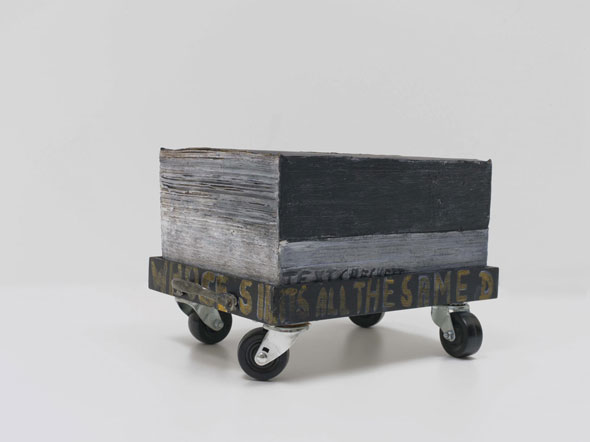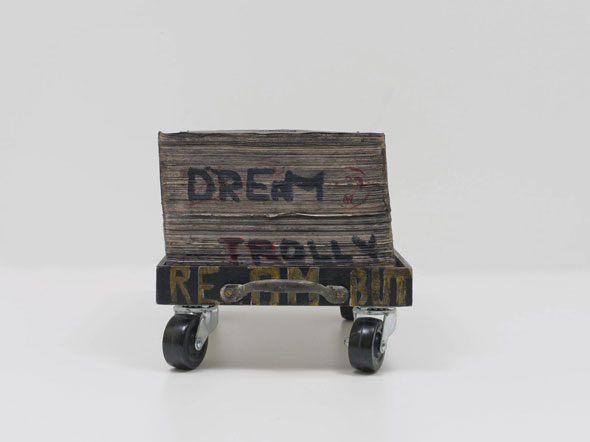 Dream Trolly (2013)
I have always hankered after a 'one object' exhibition. As soon as I saw Madonna's Dream Trolly, I knew this desire would be fulfilled and remarked to Madonna that it provided a 'moveable feast', which is the name she gave to her next artist book on a trolley.
Documentation files found in Queensland Government Bindery, which was closing down. The files were glued together and painted top and three sides with synthetic polymer paint. Bottom not painted.
'Book' size c. length 30.0cm x width 21.0cm x height 14.0cn Hole (c. 5.0cm length x 4.5cm width x 2.0xm depth) cut in centre top (to funnel 'dreams'?). Back cover: Fragment of Certificate of Title. Queensland.
'sealed book' placed freestanding in trolley handmade by David Richardson (Richardson's stamp on bottom of trolley).
Trolley size: c. length 32.0 x width 23.2cm x depth (small frame around edge) outside 3.5cm, inside 1.9cm. Sits on four caster wheels. Two handles – one each on short sides.
Collection of State Library of Queensland
Postcard available $5.00