Alex Selenitsch
exhibition
HORIZON
26 October – 23 November 2013
My HORIZON works began from the observation that scanning a horizon and reading a line of text, or even a longish word, might be similar. The word itself was in my mind because of Sweeney Reed's versions, in particular, the metal one which I installed in Ruth Cowen's apartment. My HORIZONs are a continuation of Sweeney's, even though he probably never considered his own poems as an unfinished set. My use of the word takes it into different subjects as well.
I began with a group of HORIZON pieces for a travelling show called Script, curated by Angela Cavalieri. My rule was to make three new works for each venue, which I did for five venues after the first showing at Mass Gallery, Melbourne, in 2002. All of these works were images of reading from left to right, placed across a flat surface. Some used the word 'horizon', others implied one through a scatter of letters and numbers.
Later works move the word into three-dimensional space. Instead of reading across or along the HORIZON, they ask the viewer to read around, over to, at, towards and through the HORIZON. Materiality has also been influential. Vinyl, perspex and access to laser cutting, a project at the Melbourne Museum of Printing involving a large letterpress machine, the easy copy/paste/alter functions of the computer: all of these have pushed the horizon further and further away, or perhaps, have revealed new horizons to scan. The closer you get to a horizon, the further it moves away. I no longer see the project as a set that can be finished, but as a continuous project, with completion always out of reach.
Alex Slenitsch
1 embedded HORIZON 2007-2013
black chinagraph on paper
42.0 x 59.0 cm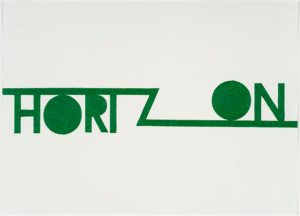 2 Z-HORIZON, attached 2007-2013
green chinagraph on paper
42.0 x 59.0 cm
3 Z-HORIZON, floating 2007-2013
blue chinagraph on paper
42.0 x 59.0 cm
4 Z-HORIZON, floating 2007-2013
blue chinagraph on paper
42.0 x 59.0 cm
5 N-H 2004-2013
black chinagraph on paper
42.0 x 59.0 cm
6 – 12
script HORIZONS 2000
7 works
transfer letters on card c. 16.0 x 24.0 cm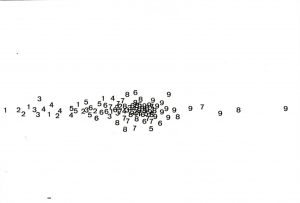 13 scale rule 2009
vinyl letters on aluminum bar
4 .0 x 54.5.0 x 0.3 cm
14 zero top and bottom 2010
vinyl letters on perspex, wood blocks
24.0 x 49.0 x 11.5 cm
15 vertical zigzag 2010
vinyl letters on perspex, wood blocks
23.5 x 24.0 x 11.5 cm
16 horizontal zigzag 2010
vinyl letters on perspex, wood blocks
23.5 x 24.0 x 11.5 cm
17 stitched HORIZON 2006
open booklet
paper, cotton thread, pencil
19.0 x 12.5 cm laid flat
18 folded HORIZON 2009
letterpress on folded paper
34.0 x 24.0cms,
folding out to 34.0 x 44.5 cm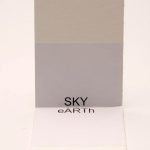 19 SKY/eARTh 2006
two works:
(a)
type – photocopy text on folded card 30.0 x 9.5 cm
19 SKY/eARTh 2006
two works:
(b)
blots – ink on folded paper 9.5 x 7.5 cm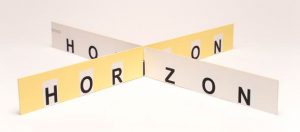 20 HORIZON crossroads c. 2010
photocopy letters on card
5.0 x 40.0 x 29.0 cm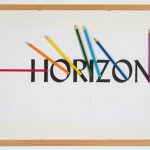 21 Noah's Arc (full colour) 2000
coloured pencils on photocopy on foam core
in wooden frame 42.0 x 56.0 x 1.25 cm
22 a / 22 b lay-down HORIZON 2008
digital print on archival paper in edition of 3
(a) 29.5 x 21.0 cm
(b) 42.0 x 29.5 cm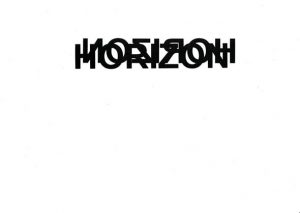 23 a / 23 b double HORIZON 2006-2008
digital print on archival paper in edition of 3
(a) 29.5 x 21.0 cm
(b) 42.0 x 29.5 cm
24 a / 24 b diagonal horizon 2000
digital print on archival paper in edition of 3
(a) 29.5 x 21.0 cm
(b) 42.0 x 29.5 cm
25 a / 25 b spelling HORIZON 2007
digital print on archival paper in edition of 3
(a) 29.5 x 21.0 cm
(b) 42.0 x 29.5 cm
26 a / 26 HorizonhOrizonhoRizonhorIzonhoriZonhorizOnhorizoN 2000
digital print on archival paper in edition of 3
(a) 29.5 x 21.0 cm
(b) 42.0 x 29.5 cm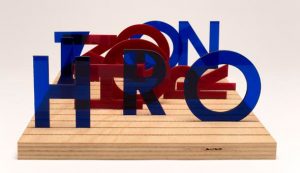 27 HORIZON thru & thru 2009
perspex, plywood 9.0 x 24.0 x 37.5 cm

28 HORIZON over 2009
perspex, pine 10.5 x 58.0 x11.0 cm
29 double HORIZON 2011
Perspex 10.0 x 61.0 x 2.cm
no images
30 7 underscored HORIZONS 2008
8 sheets on plastic folder A4
31 HORIZON shifts 2008
8 sheets on plastic folder A4
no images
32 HORIZONS future&past 2008
8 sheets on plastic folder A4
33 HORIZON monotones 2013
8 sheets on plastic folder A4