Nicholas Nedelkopoulos
1955 Melbourne, Australia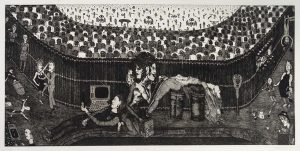 Street Vice, 1984
Etching and aquatint with plate tone
Edition of 20
Plate 50.2 x 100.2 cm
Sheet 80 x 121 cm
Printed by Bill Young
Inscribed in pencil below plate:
16/20; 'Street Vice'; signed Nicholas Nedelkopoulos and dated '84.
Held in collection of National Gallery of Australia 1/20 and National Gallery of Victoria 15/20.
Condition:
Overall good. Some dirt marks top left and top right corners. Smudge above plate mark top right circa 26 cm from left margin. Signs of previous mould to bottom corner of sheet. Has been cleaned and treated by conservator.
$2,500.00