Mona Ryder
exhibition
prints 1979 – 1987
5 April – 16 May 2014
Over a period of approximately ten years from the late 1970s Mona Ryder embraced printmaking. Working mainly with etching, lithography and the woodblock, the artist produced some forty prints.
grahame galleries + editions takes pleasure in presenting almost all prints from this period.
Prices noted are from exhibition and may have increased. Please inquire.
1 Baby '79
drypoint, edition of 12
plate 25.0×8.5cm
sheet 30.0×22.5cm
$175.00
2 here is bird (1979)
etching and aquatint, edition of 7
plate 2 separate plates
c. 49.0×30.0cm, sheet 66.0×42.0cm
$500.00
3 10th Anniversary (1979)
drypoint, edition Artist Proof
plate 18.5×23.0cm
sheet 46.5×46.0cm
$450.00
4 Man on chair (1979)
engraving, edition of 12
plate 12.5×8.5cm
sheet 28.5×20.0cm
$200.00
5 Woman with Hat (1979)
etching and aquatint
edition of 8 on light green paper
plate 12.5×10.0cm
sheet 26.0 x 16.0cm
$300.00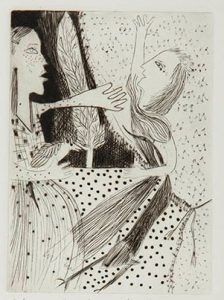 6 untitled (1979)
engraving, edition of 10
plate 20.5×9.0cm.
sheet 27.0x 23.5cm
$500.00
7 Moon struck (1979)
woodblock, edition not known
image c. 39.0×28.0cm
sheet 56.5×42.0cm
$500.00
8 Coffin (1979)
etching (2 separate plated),
woodblock, collograph, embossing
not editioned – one impression only
plate overall size c. 55.0×29.0cm,
sheet 75.0×46.5cm $800.00
9 Grey Box (1980) (edition of 8 on large sheet)
etching and aquatint edition of 8
plate 20.0×25.0cm
sheet 58.0×39.5cm $400.00
10 Grey Box (1980)
(no image available)
(edition of 6 on small sheet)
etching and aquatint edition of 6
plate 20.0×2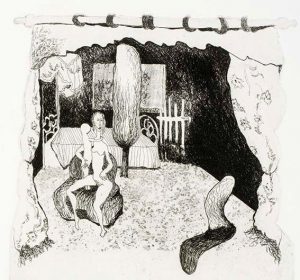 11 Curtained, Staged room with tree (1980)
etching and aquatint edition of 10
plate 25.0×25.0cm
sheet 42.5×37.5cm $400.00
12 Fred and Cassandra (1980)
etching edition of 6
plate 39.0×32.5cm
sheet 60.5×50.5cm
$400.00
13 Paul and Pool (1980)
colour etching – three shaped plates
edition of 10 on cream paper,
plate overall c. 24.0×34.0cm
sheet 49.0x55cm
$400.00
14 The empty shell (1980)
lithograph edition of 8
image c. 47.5×37.0cm
sheet 75.0×52.0cm
$600.00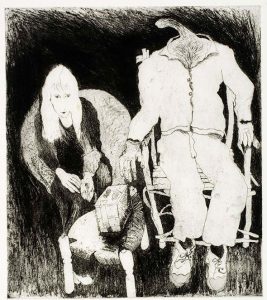 Pandora's Box (1981)
etching edition of 15
plate 33.5×29.5cm
sheet 52.5×47.5cm
$500.00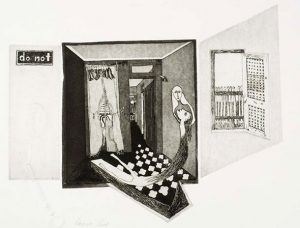 16 Do Not (1982)
etching and aquatint edition of
plate 3 separate plates irregular sizes
overall c. 29.5×37.0cm
sheet 40.0×54.5cm
$500.00 print with embossed key
$400.00 print without embossed key

17 On the Farm (1983)
etching – 3 plates various sizes edition of 8
sheet 31.0x 54.0cm
$450.00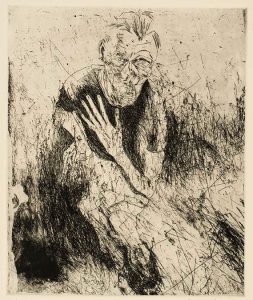 18 Old Man (1983)
etching edition of 10 on cream paper
plate 30.0×25.0cm
sheet 47.0×38.5cm
$500.00

19 Mouse and MU MU (1983)
etching and aquatint edition of 9
plate 45.0 x 16.5cm
sheet 62.0×31.5cm
$500.00
20 Water Method Woman (1983)
etching edition of 10
plate 31.5×33.5cm
sheet 49.5×49.0cm
$600.00
21 Winged hands and death (1983)
etching edition of 6
plate 22.5×30.5cm
sheet 53.0×40.5cm
$550.00
22 Winged hands and death (1983)
etching edition of 6
2 plates; left plate printed offset
image reversed – with hand written text
beneath: His dimpled arms round me
entwine God keep his heart forever mine
each plate 22.5×30.5cm
sheet 36.5×71.5cm
$600.00
23 Mouse and Barney (1983)
etching edition of 10
plate 22.5×27.5cm
sheet 56.5×35.0cm
$500.00
24 Tree Woman 1 (1983)
etching edition of 10
on cream paper
plate 45.5×27.5cm
sheet 64.5×43.5cm
$500.00
25 Tree Woman 2 (1983) (2nd state)
etching edition of 6
plate 44.5×27.5cm
sheet 56.5×38.0cm
$500.00
25 Tree Woman 3 (1983) (3rd state)
etching with aquatint edition of 4
plate 44.5×27.5cm
sheet 61.0×40.5cm
$500.00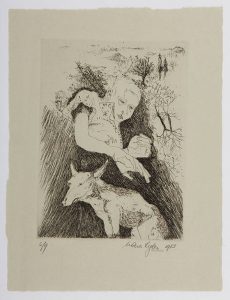 27 Giles and Mouse (1983)
etching edition of 9 on light green paper
plate 18.0×13.0cm
sheet 25.5×19.5cm
$300.00
28 Lost parcel I (1983)
lithograph on cream paper
edition of 10
image 40.0×52.0
sheet 56.5×68.5cm
$700.00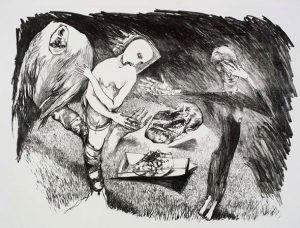 29 Lost Parcel II (1984)
lithograph edition of 11
image c. 39.0×52.5cm
sheet 57.5 x 65.5cm
$600.00
30 Dark Cloud (1984)
lithograph edition of 5
image 21.5×27.0
sheet 23.0×29.5cm
$550.00
31 Mouse in Rose Garden (1984)
etching edition of 10
image 23.5×29.0cm
sheet 42.0×38.0
$500.00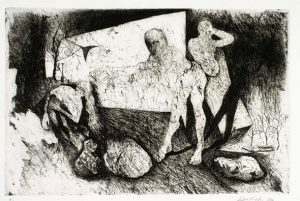 32 Death (1984)
etching edition of 5
plate 29.8×45.0cm
sheet 45.5 x 59.0cm
$550.00
33 Holy Ironing Board (1984)
lithograph edition of 4
image and sheet 44.0×29.0cm
$500.00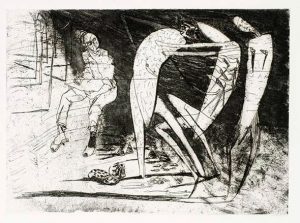 34 Ironing board wars (1987)
etching edition 4
plate 2 plates
etching plate 20.5×28.5cm
with embossing plate c. 9.0×26.0cm
sheet 56.5×44.0cm
$600.00 (one only available)
35 Programme for Circus Follies of
Exasperating Subtlety (1980)
etching, linocut, watercolour and calligraphy
edition 10
programme 23.2×13.5cm
hand bound with red ribbon
Printed in the form of a programme
$750.00 (three available each individual)