a preponderance of aboriginal blood (2005)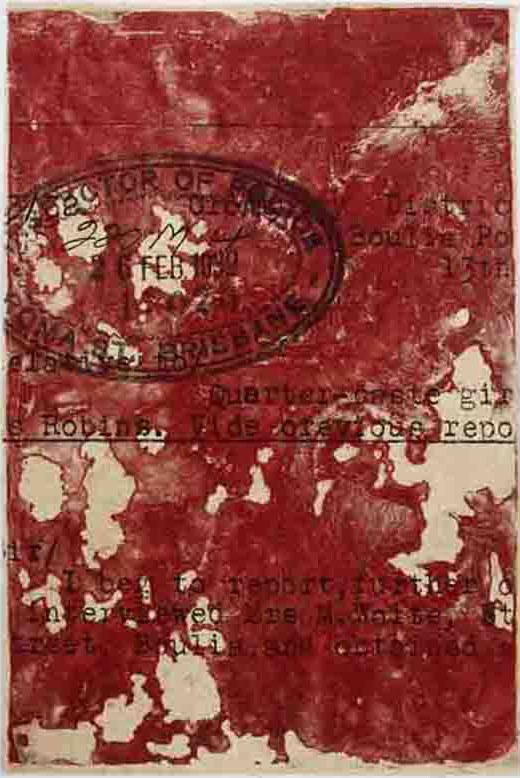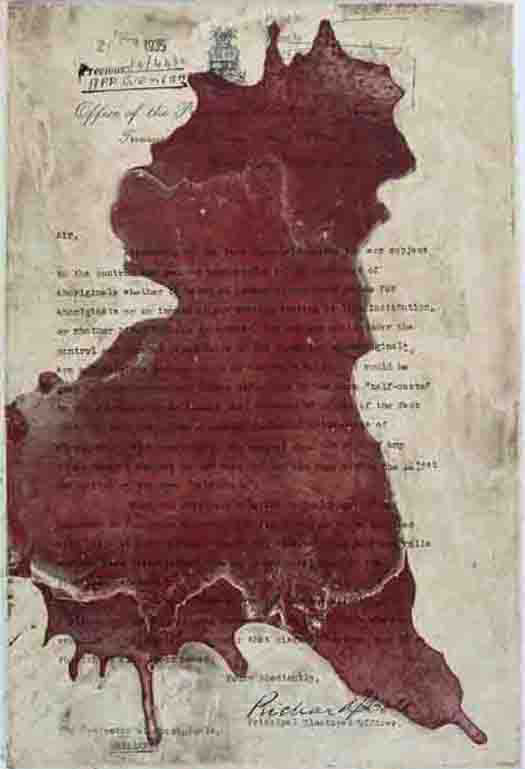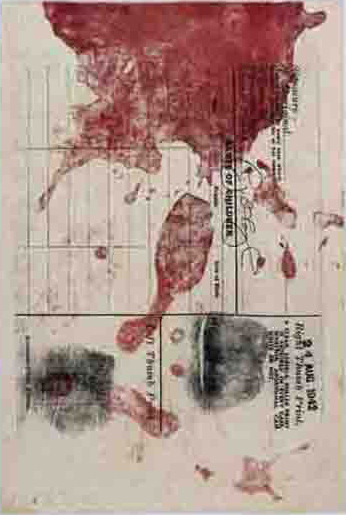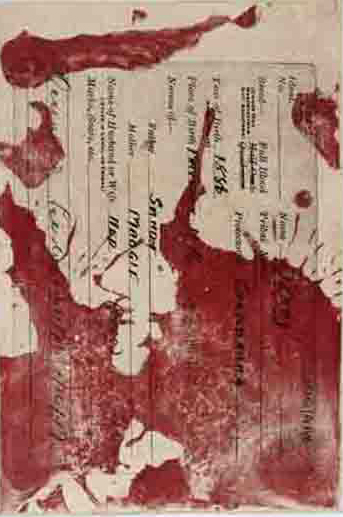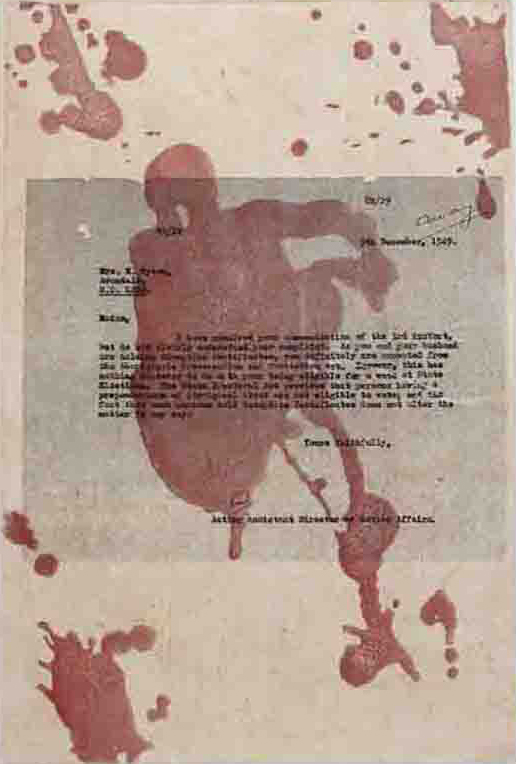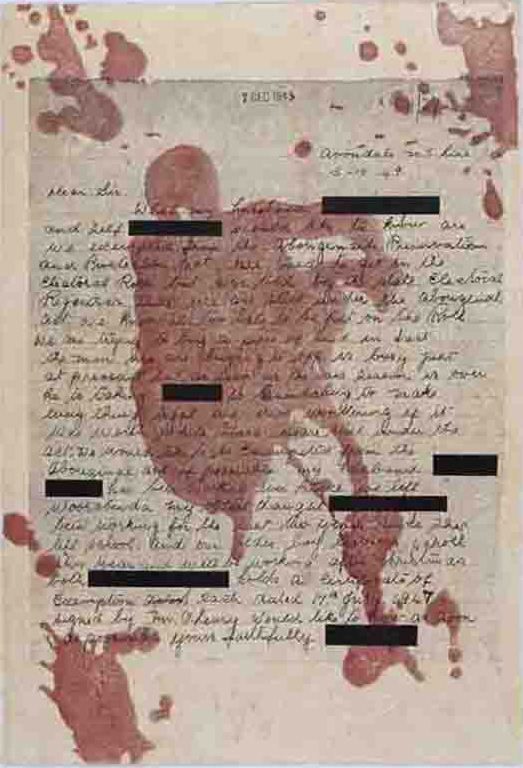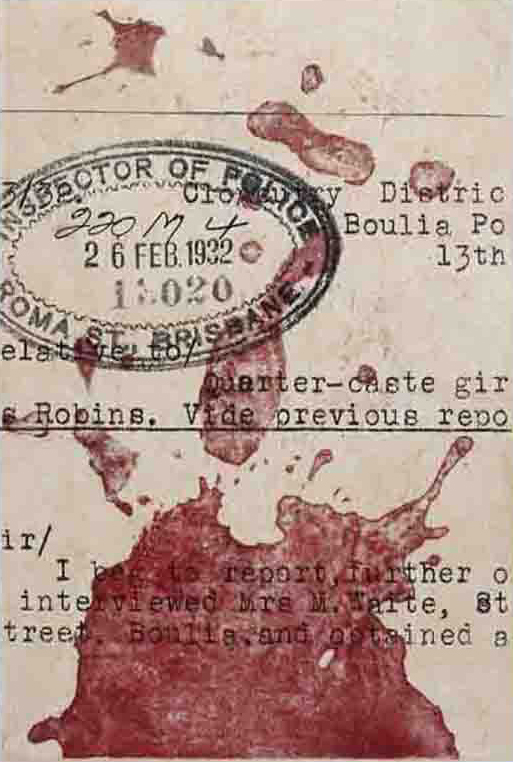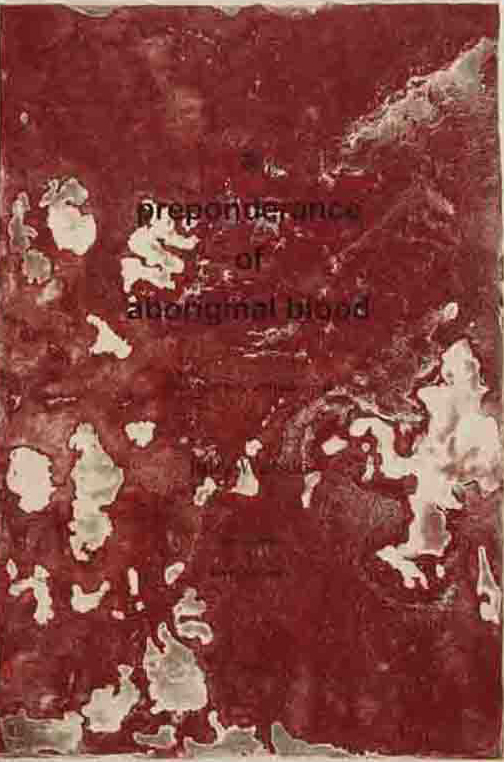 I was compelled to make this series of works after listening to a lecture by Loris Williams and Margaret Reid at the University of Queensland on Indigenous people and the Right to Vote in Queensland. Along with other artists I had been commissioned by the State Library of Queensland to produce an artist book celebrating the Queensland Centenary of Women's Suffrage and Forty Years Aboriginal Suffrage. I had decided, however, I didn't want to do this project. I had a lot on my plate already with 2 young kids and other work related deadlines in front of me. But, when I heard Loris use the term 'a preponderance of aboriginal blood', I was in, and I knew what I was going to make the work about. I dedicated this artist's book to Loris and I'm sorry she never got to see it completed.
Loris sent me material from her lecture, and Margaret Reid sent me copies of some of the original documents in the archives. It is this material, that is so potent and so oppressive, that is the work. Its heaviness dictates an era of constriction and control for all Aboriginal people caught within its web. My dedication goes not only to Loris and Margaret but to all those writers, artists, researchers, educators, librarians etc who have helped to reveal the whitewash of our history.
The matrilineal side of my family is Aboriginal, our country is in North-west Queensland. My father's family have Scottish and English ancestry. I fit somewhere in between, I am Indigenous and non-indigenous. I embody the notion of two cultural frameworks occupying the same cultural space.
My Aboriginal Grandmother, Grace Isaacson, was born on Riversleigh Station in North West Queensland in 1912. This is an area important in the study of palaeontology, fossils. Not far from here is Lawn Hill Gorge, a beautiful place, lush with plenty of water, plant and animal life. In 1990 and 2001 I went on a trip to Riversleigh Station and Lawn Hill Gorge with some of my family. It wasn't the first time I've been there but to go back again is to see something new each time and is an affirmation of identity, ancestral links and connection with country. Being with family, talking to my Grandmother, absorbing her memories, gaining an insight into her life and the way she sees the land, being shown bush-foods and sites is some of my major research as an Indigenous visual artist. The strength of these experiences sustains me and is the touchstone for my work.
When I see the sort of material I researched for this project I am outraged that my own family especially my wonderful Grandmother, Grace Isaacson, were subjected to this sort of treatment and classification by the white authorities in this country. I view this material with a deep, personal hurt for my family and for all Aboriginal people.
The work is in a way very simple. I present copies of the original documents, overlaying them with images of blood. The printing process is chine collé in which thin paper, in this case photocopies onto banana fibre paper, are backed with acid free glue, a rice paste. They are placed face down onto etching plates, rubbed with a dark red ink, a dampened sheet of white cotton rag paper is placed over the top and then fed through the printing press which is like an old clothes mangle, squashing the paper into the surface of the plate so that it can pull the ink out. The pressure adheres the sticky glue on the back of the thin sheet of paper so that it becomes a part of the heavier white paper, collaging them together.
Because this material from the archives already has a latent power, I didn't want to change this very much. Its leakage onto the printed page is enough. My background is as a printmaker, so it was a natural progression to work with this medium for the artist's book.
Judy Watson
2005
Limited edition artist's book – fifteen etchings with chine collé – each page numbered verso; page 42.0 x 30.5 cm in folio 43.0 x 32.0 cm (closed) 71.3 x 99.2 cm (open); edition of 5 plus artist proofs; special edition commissioned by State Library of Queensland.
Published by Judy Watson and grahame galleries + editions/numero uno publications
Edition sold out
Award:
2006 23rd Telstra National Aboriginal and Torres Strait Islander Art Award (NATSIA) Darwin, Work on Paper Award.
Ref: (selection)
Armitstead, J 2005, sufferance : women's artists' books, State Library Queensland, Brisbane. pp. 14-15.pp.
Cowley, D and Williamson, C 2007, The World of the Book, The Miegunyah Press and the State Library of Victoria, Melbourne. pp. 214-5.
Croft, B. 2008 'Missing' in: Knights, M (ed), Shards, SAS University of South Australia, Adelaide. pp. 2, 8, (illus. p. 5).
Fitzgerald, M 2005, Veiled in Beauty, Time, December 12, No 49. pp 62-64.
Kennedy, R 2011, 'Indigenous Australian Arts of Return : Meditating Perverse Archives', in M Hirsch and N K Miller (eds), Rites of Return : Diaspora Poetics and the Politics of Memory, Columbia University Press, New York. pp. 88-104. See esp. 'Reading through Blood: Judy Watson's Artist's Books'. pp. 91-87.
Knights, M and Croft, L 2008, SHARDS, SASA University of South Australia, Adelaide. pp. 2, 8-9, 16-19.
Mundine OAM, D with artist's contribution 2007, Sunshine State – Smart State, Campbelltown Arts Centre, Campbelltown. pp. 37-39.
Watson, J 2010, 'a preponderance of aboriginal blood', in R Follett (ed), Found in Fryer : Stories from the Fryer Collection, The University of Queensland, St Lucia. no. 89. pp. 186-7 (illus. p. 187)
Watson, J and Martin-Chew L 2009, Judy Watson blood language, The Miegunyah Press, Melbourne University Publishing
Exhibited:
2017 &So… Queensland College of Art Library, Griffith University
2016 MCA /TATE International Joint Acquisition Program exhibition, Museum of Contemporary Art, Sydney
2008 SHARDS, SASA Gallery, South Australian School of Art
2008 Coolamon, Brisbane Square (BSQ) Library, Brisbane
2007 Sunshine State – Smart State, Campbelltown Arts Centre, Cambelltown, NSW
2006 Artists Books from The Centre for the Artist Book, grahame galleries + editions, The Research Library and Archive, Art Gallery of New South Wales
2006 23rd Telstra National Aboriginal and Torres Strait Islander Art Award, Museum and Art Gallery of the Northern Territory, Darwin
2006 Libris Art Awards, Artspace Mackay
2005/06 Judy Watson Selected works 1990 – 2005, University Art Museum, UQ, Brisbane
2005 sufferance : women's artists' books, A Queensland Centenary of Women's Suffrage project presented by the State Library of Queensland and Craft Queensland
The limited edition artist book is held in following collections: 

The Baillieu Library, The University of Melbourne
State Library of Victoria
Fryer Library, The University of Queensland
National Library of Australia
State Library of New South Wales
University of Technology, Sydney
Queensland Government Department of Aboriginal and Torres Strait Islander Policy
Museum of Contemporary Art Australia and TATE Modern hold an edition jointly
The State Library of Queensland holds the special edition as well as the original copper plates with etched images overlaid with text.