Friedrich Meckseper
1936 – 2019 Germany
Born in Bremen in 1936 Friedrich Meckseper commenced art studies at the Stuttgart Academy for Visual Arts in the mid–1950s. From 1957 to 1959 he studied at the Hochschule der Künste in Berlin. In 1963 he spent a year in Rome after receiving the German Rome Prize Villa Massimo.
According to his daughter, Josephine, Meckseper's interests included physics,
astronomy, classic literature and 19th century technology.
Meckseper was strongly influenced by artists such as Morandi.
The configuration of objects and artifacts that Meckseper employs in his prints express an inner order while at the same time retaining their mystery.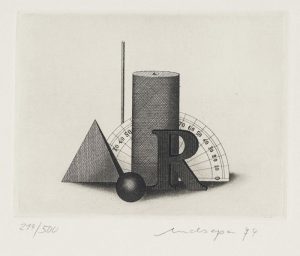 Still Life, 1974
Etching, aquatint, roulette from 1 copper plate 
2 colours black, white
Edition of 500
Plate 9.5 x 12.5 cm
Sheet 26.8 x 19.2 cm
Inscribed in pencil below plate:
274/500; signed Meckseper and dated 74
Printed at Druckgrafik Kätelhön, Wamel
Published by Fisher Fine Art, London
Ref:
Cramer No. 166
$800.00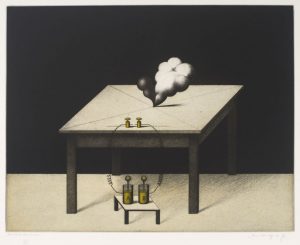 Experiment, 1976
Etching, aquatint, roulette from 2 copper plates in 2 colours: gold, black
Edition of 100 + XXXIII E.A. (Epreuve d'artiste) and HC/A – HC/J
Plate 40 x 50 cm
Sheet 56 x 75.5 cm
Inscribed in pencil below plate:
Epreuve d'artiste; signed Meckseper and dated 76
Printed at Druckgrafik Kätelhön, Wamel
Published by Galerie Börjeson, Malmo
hommage aux prix nobel
Ref:
Cramer No. 179
$1,500.00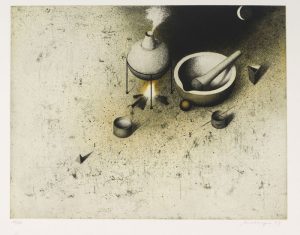 Chemie, 1983
Softground, etching, lift-ground, aquatint, drypoint and roulette on 3 copper plates; 3 colours: gold, grey/green and black
Edition of 100 + XXV and XV E.A (Epreuve d'artiste)
Plate 40 x 50
Sheet 57 x 76.2 cm
Inscribed in pencil below plate:
63/100; signed Medkseper and dated 83
Printed by Heine Bunte, Lilienthal
Published by Galerie Börjeson, Malmo
From'The Nobel Prizes' suite
Ref:
Cramer No. 222
$1,500.00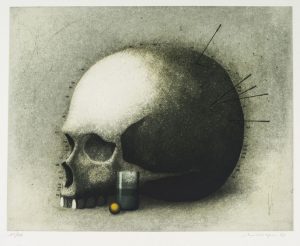 Medizin, 1983
Softground, etching, lift-ground, aquatint, drypoint and roulette on 3 copper plates; 4 colours: gold, blue, grey/green and black
Edition of 100 + XXV and XV E.A (Epreuve d'artiste)
Inscribed in pencil below plate:
31/100; signed Meckseper and dated 83
Printed by Heine Bunte, Lilienthal
Published by Galerie Börjeson, Malmo
From'The Nobel Prizes' suite
Ref:
Cramer No. 223
$1,500.00
Oekonomie, 1983
Softground, lift-ground, aquatint on 3 copper plates; 3 colours: gold, grey/green and black
Edition of 100 + XXV and XV E.A (Epreuve d'artiste)
Plate 40 x 50
Sheet 57 x 76 cm
Inscribed:
31/100; signed Meckseper and dated 83
Printed by Heine Bunte, Lilienthal
Published by Galerie Börjeson, Malmo
From'The Nobel Prizes' suite
Ref:
Cramer No. 226
$1,500.00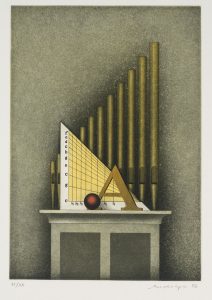 Orgel, 1986
Etching, aquatint, roulette on 3 copper plates; four colours: gold, red, green/black; black
Edition of 200 + XX and 25 E.A. (Epreuve d'artiste)
Plate 25.5 x 17.8 cm
Sheet 38.3 x 28.7 cm
Inscribed in pencil below plate:
VI/XX; signed Meckseper and dated 86
Printed by Heine Bunte, Lilienthal
Published by Deutsche Grammphon, Hamburg
Ref:
Cramer No. 241
$800.00