Juli Haas
recent works on paper (2009)
28 November – 19 December 2009
Juli Haas portrayed the darker side of human nature in an interior world filled with fantasy and absurdity.
The theme of her work in recent works on paper is no exception. 'journeys in boats' and 'seas of dreams'- not only reflected upheavals in her personal life but also comments on a troubled society.
Each work describes a voyage, which not only linked closely to personal observations of her world near and far but also to the process of creating her art.
The boat, a vessel for self, is carried on turbulent or calm seas, its cargo the weight of the past, present and future.
Please enquire about availability of works.
Dream Mans Manual, 2009
drypoint and watercolour
edition of 30, 49.5 x 34.4 cm
Night Cruise, 2009
drypoint and watercolour
edition of 30, 25.0 x 25.0 cm
Lace Boat, 2009
drypoint and watercolour
edition of 30, 25.0 x 25.0 cm
The Night Watch, 2009
drypoint and watercolour
edition of 30, 25 .0 x 25.0 cm
Pleasure Boat I, 2009
drypoint and watercolour
edition of 30, 24.5 x 19.5 cm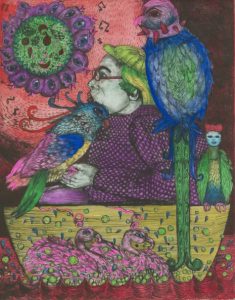 Pleasure Boat II, 2009
drypoint and watercolour
edition of 30, 24.5 x 19.5 cm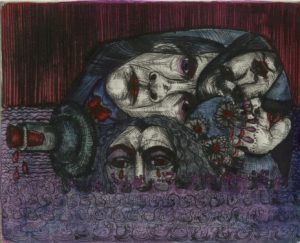 Flotsam, 2009
drypoint and watercolour
edition of 30, 10.0 x 12.5 cm
Visions before Midnight, 2009
drypoint and watercolour
edition of 30, 10.0 x 12.5 cm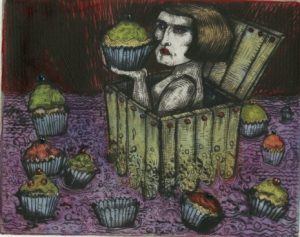 Sea Cakes, 2009
drypoint and watercolour
edition of 30, 10.0 x 12.5 cm
May Day, 2009
drypoint and watercolour
edition of 30, 10.0 x 12.5 cm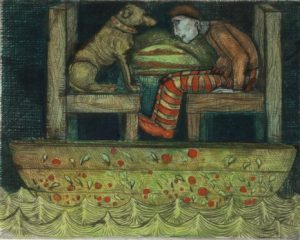 Drifters, 2009
drypoint and watercolour
edition of 30, 10.0 x 12.5 cm
House Boat, 2009
drypoint and watercolour
edition of 30, 10.0 x 12.5 cm
Lace Boat, 2008
watercolour
watercolour 30.0 x 30.0 cm
Departure, 2009
watercolour
watercolour 76.0 x 76.0 cm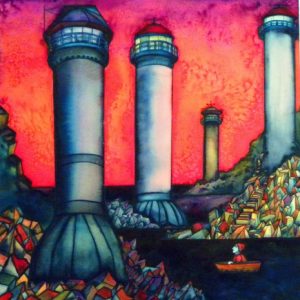 Surveyor
watercolour
53.0 x 49.2 cm