Ron McBurnie
Temptation Marks (1993)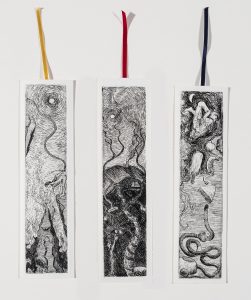 Three etchings presented as bookmarks. The Temptation Marks were produced in 1993 as temptations to his exhibition The Temptation of St Anthony held
at grahame galleries + editions from 12 October – 12 November 1994.
Temptation Marks titles:
"Temptation of Lust"
"Temptation of Gold desire for Wealth"
"Temptation of Gluttony"
18 x 5 cm details of etchings printed on archival paper adhered verso and ribbon at top.
Publisher: grahame galleries + editions
Singles $15.00
Set $40.00