Jennifer Marshall
20 May – 20 June 2009
selection of relief prints and artist's books 1977-2009
selection of relief prints and artist's books 1977-2009
Many artists use printmaking as an adjunct to their art practice, or as they see it, as a means of a quick turnover. Not many are printmakers. Jennifer Marshall is an exception.
Marshall studied art at the South Australian School of Art (1959-62) where Udo Sellbach had set up the first printmaking department in Australia modelled on the lines of the Kölner Werkschulen. She studied lithograph and screenprinting under Sellbach and etching under Karin Shepers, herself a fine printmaker. A co-student was Barbara Hanrahan.
From 1963-74 Marshall worked mainly as a painter. From late 1974 the graphic work came to the fore and had an enriching effect on her painting. Also in 1974 she had the occupancy of the Power Studio at the Cité International des Arts in Paris. Finding the studio too small to work on stretched canvas, she turned her attention to printmaking as well as experimenting with gouache. These works on paper used series of directional diacritic markings. Gradually, the little diacritics took on a calligraphic character and, finally, a distinctly script-like quality. This certainly reflects the influence of printmaking.
In Marshall's paintings the superimposition of multi-directional scripts and diacritic markings looks, at a distance, like cross-hatching. By the late 1970s her prints were all essentially abstract but often contain recognisable elements like letters from the alphabet, numerals and script. They are, in part, used purely for formal effect. The explicit reference to the development of printing and a homage to Gutenberg is made in 'Book Plates', a linocut from 1978 and in 'Manuscript' (1977). (both works are in this exhibition).
All the prints in the show are relief prints. Relief printing is highly appropriate to Marshall's abiding interest in illusion of depth and planar ambiguity. In an important sense the depth which appears in her prints is quite literal since it is a direct reflection of the depth of the cuts made into the surface of the block. Nonetheless, just in case we begin to take too much for granted, Marshall often (in her linocuts) uses a bold, deep cut right the way across the image. By extending this gash beyond the image area, she makes it appear to lie on the surface, thus contradicting the fact of the literal depth of the incision.
This reflexive theme in Marshall's printmaking has been extended into the books, which she began collating in 1978. Making books was initially a pragmatic solution to the problem of enabling a viewer to see a series of prints (all of which related to one another within a structural whole) in a way more convenient than mounting, framing and hanging each one individually. She quickly saw, though, that the book form was in fact a further extension of the reflexive theme already present in the individual prints.
A book is essentially a progressive thing, and Marshall's early 'flip books' were designed to be read quickly in order to heighten the dynamic interaction between one image and the next. But a book also offers the opportunity for reflection. We can spend time on one page before moving to the next or skipping pages and then returning. The works in this exhibition provides the opportunity of following the constant tension in the selection of Marshall's relief prints and books from 1977-2009.
1 Untitled, 1977
Linocut (Proof) 20 x 21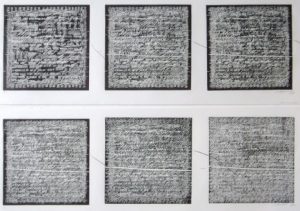 2 Book Plate I, (1-3) from "Untitled book" 1978
(top three images)
linocut 30.7 x 91.5
3 Book Plate I, (4-6) from "Untitled book" 1978
(bottom three images)
linocut 30.7 x 91.5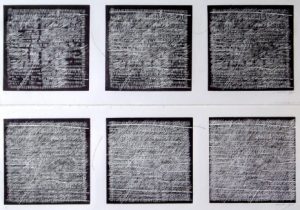 4 Book Plate II, (1-3) from "Untitled book" 1978
(top three images)
linocut 30.7 x 91.5
5 Book Plate II, (4-6) from "Untitled book" 1978
(bottom three images)
linocut 30.7 x 91.5
7 1399, 1978
Relief etching /linocut (image not available)
proof 2
6 1399, 1978
Relief etching
Proof 1 (image not available)
8 1399, 1978
Relief etching (2 plates) (image not available)
proof 3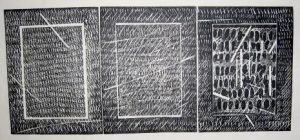 9 WBS, 1981
linocut/etch, 45 x 62 proof
Nos. 10 – 16  Sleepwalker I, 1988
complete set of unique colour variant proofs
No 11, 12/15 and 2 APs available separately
Marshall produced a three colour lithograph proof with Neil Leveson at the Victorian Print Workshop, Melbourne (now the Australian Print Workshop). Over a weekend in the artist's studio at Buninyong, Marshall and Leveson experimented with three colour variants of the woodblooks printed on seven of the lithograph proofs to achieve the final BAT proof for the edition. Each of these seven colour variant proofs are unique and are being exhibited here for the first time as an homage to Neil Leveson.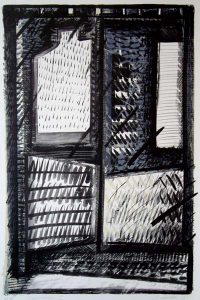 10 Sleepwalker I, 1988
lithograph/woodcut, 98 x 75
colour variant proof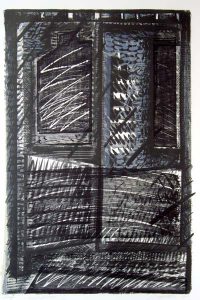 11 Sleepwalker I, 1988
lithograph/woodcut, 98 x 75
colour variant proof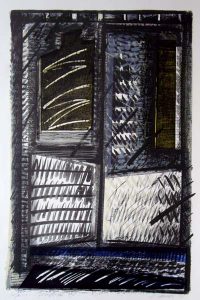 12 Sleepwalker I, 1988
lithograph/woodcut, 98 x 75
colour variant proof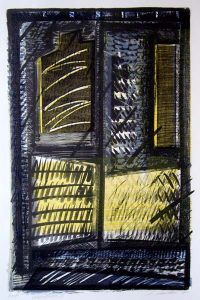 13 Sleepwalker I, 1988
lithograph/woodcut, 98 x 75
colour variant proof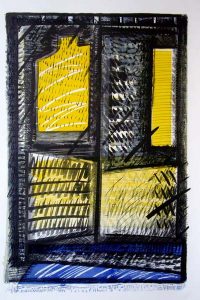 14 Sleepwalker I, 1988
lithograph/woodcut, 98 x 75
colour variant proof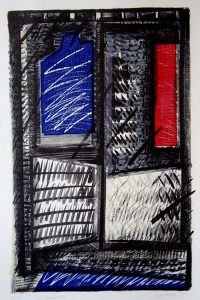 15 Sleepwalker I, 1988
lithograph/woodcut, 98 x 75
colour variant proof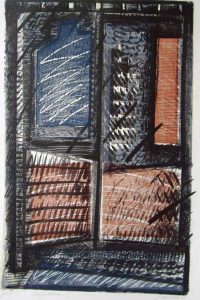 16 Sleepwalker I, 1988
lithograph/woodcut, 98 x 75
colour variant proof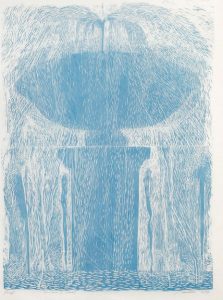 17 Fountain I (Rome), 2009
Linocut, woodblock
70 x 50 proof
18 Fountain I (Borghese), 2009
Linocut, woodblock
70 x 50 proof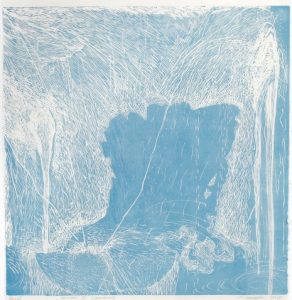 19 Fountain III (Trastevere), 2009
Linocut, woodblock
60 x 50 proof
20 Manuscript 1977
Monoprint 32 x 23.5
Produced as proof with the intention of printing an offset version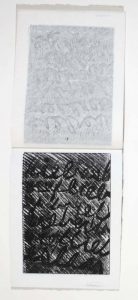 21 Liebesbrief, 1977
woodcut, 28 x 20
Unique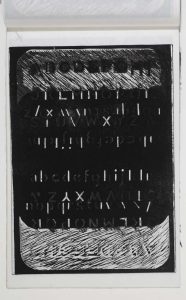 22 Stencil book, 1977
37 x 24
Unique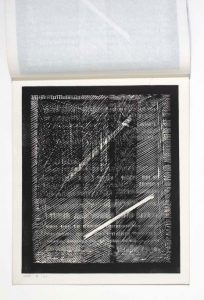 23 Linocut book, 1979
34 x 27
Unique
24 Untitled I , 1978
linocut, 28x 28.5
Edition of 6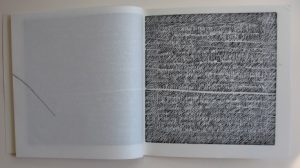 25 Untitled II, 1978
linocut, 28x 28.5
Edition of 6
26 Flick Book 1980
Linocuts (printed offset) Edition of 75
Publisher Tamarisque, Sydney
Ref: Selenitsch, Alex, 2007 Australian Artists Books, National Gallery of Australia,
p.p. 90, 91, p. 117
27. Framed I, 1981
Linocut, 24 x 18 Edition 6
(no image available) 
NFS
28. Framed II, 1982 Linocut 24 x 18 Editionof  5 NFS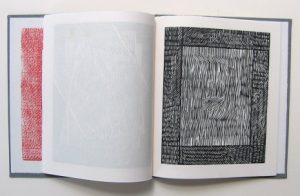 29. Framed III, 1982 (2009) Linocut 24.0 x 21.0 cm. Edition of 5
30. Object Drawing – A Fragmented History Lesson, 2007 etching, 28.0 x 22.0 cm – 3 copies with variations