Jan Davis
artist's book
Drawing on the ground (2015)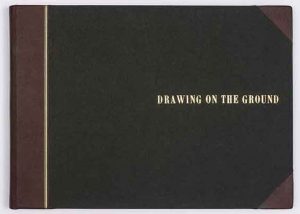 How better to reflect on the drawing of sustenance from the land than to produce an artist book of drawings combined with handwritten texts based on settler and explorer diaries accompanied by carbon paper drawings bound in kangaroo skin in the manner of a 19th century Labour Book. Drawing on the ground is loosely chronological and moves irregularly between pages of text and drawings; captioned and un-captioned. The landscape format of the book gives a sense of an horizon, encouraging a narrative where familiar characters move across the implied country. Drawing on the ground is part diary, part history, part fiction, part autobiography; a response to labouring, and to the labour of making and keeping the records. The project was undertaken at the State Library of Queensland and supported by the 2014 Siganto Foundation Artist's Book Creative Fellowship.
68 pages of drawings accompanied by 37 pages of handwritten text and hand-stamped text. Half bound in red kangaroo skin with black buckram by Master Bookbinder Fred Pohlmann. Carbon paper drawings, stamping, ink text on Freelife 100 gsm paper. 23 x 31.5 x 2 cm., 192 pp. Each of the edition of 5 + AP – each is unique.
Self published by the artist.
Price $2,000.00
Exhibited:
2015, Paper Contemporary, Sydney Contemporary Art Fair (grahame galleries + editions), 2015
Libris Awards, Artspace Mackay, 2016
Collections:
State Library of Queensland
National Library of Australia
Biblitheca Librorum Apud Artificum