Ron McBurnie
The Temptation of St Antony (1994)
Catalogue as artist book.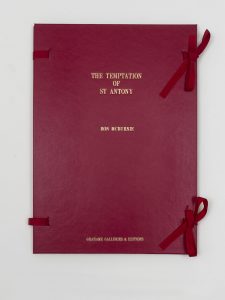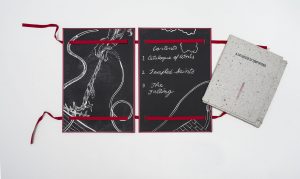 Red cover folder bound with yellow ribbon threaded through holes in front and back cover. Linocut end papers showing St Antony under temptation and list of contents inside back cover.
The publication was made for the artist's exhibition The Temptation of St Anthony at grahame galleries + editions from 12 October – 12 November 1994.
Folder contains:
Booklet entitled 'The Falling' with relic attached. Edition of 40, numbered, signed and dated 1994.
Catalogue of Temptations – a smaller folder made from stiff hand made paper shaped in the form of a cross. A linocut of St Antony plugging in a vacuum cleaner, which represents his faithful companion, is printed on inside of cross. Each side of this cross folds in onto linocut.
Inside the Catalogue of Temptations are:
Exhibition catalogue of works.
A booklet of 20 modern saints – photo images of friends of the artist posing as saints. Edition of 40 numbered, signed and dated 1994.
A drawing on hand made paper rubber stamped with title.
Red cover folder made by Fred Pohlmann.
31 x 22 cm. Edition of 12.
Publisher: numero uno publications, grahame galleries + editions.
$275.00